Ahhhh…So good to be back in Amsterdam! I'll be here for the next three weeks. The first two are a "vacation" as a bit of a self-reward for making it through my PhD qualifying exams and achieving three letters that make me very happy, ABD. I put the quotes around "vacation" as I'll still be doing some work preparing lectures for the Fall, BUT I'll be doing the work in AMSTERDAM…! The third week will be as an artist in residency at STEIM with my good friend Gregory Taylor. We will be working on our collaboration, "The Desert Fathers" that will become our second full album.
Today (Monday) was my first full day here….and it was very nice. Met Gregory for a hang (he is living in Utrecht with his wife Jolanda Vanderwal Taylor, who is a visiting professor in Dutch Studies), and went to the great Lungoccino for an espresso. You might remember the name, Michael Moore introduced it to me my last trip…simply a fantastic espresso. Afterwords, we went and visited with Michael Moore and Jodi Gilbert, and had a chance to meet and talk with their houseguest, the critic/scholar/author Kevin Whitehead (I highly recommend his book, New Dutch Swing!) then on to lunch in Jordaanplein at De Bolhoed. Afterwards a long walk to Cafe Americain to drink yet another espresso to fend off lag….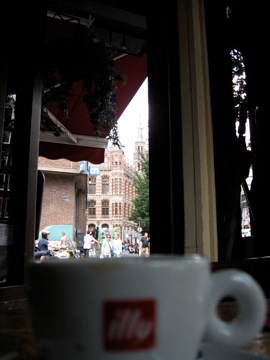 Nice to look up from your espresso and see this beautiful city…
(Click on any image to enlarge)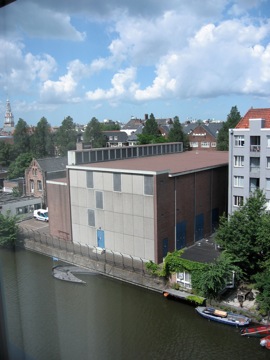 View from my hotel…the canal is Oudeschans (Old Fort), which you can see in the background of the next pic: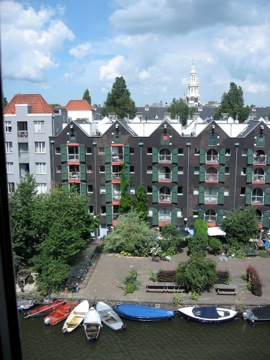 …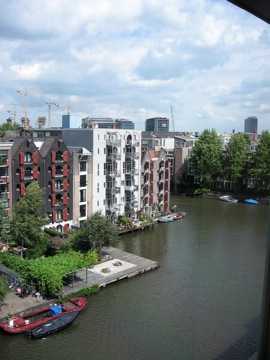 ….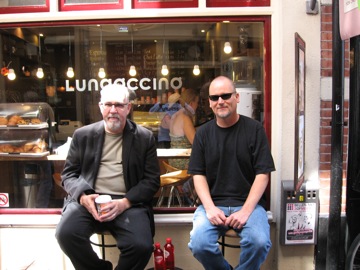 Gregory Taylor and Jeff Kaiser at Lungoccino…phenomenal….!