Andrew showed up bright and early (5 am!!!!) He wanted to save a night on the hotel…turns out our "patron," Roosevelt University was picking up the bill for all this stuff…he could've got there a day early, and I could've slept in. The raucousness began right away, leading our neighbor to pound the hotel room wall so hard it bent with each pound…
So, believe it or not, we worked while here. Tues-Thursday, we would imporovise and dialogue with students from 12-4pm, then we held a Master Class for grad and undergrad composition majors Thursday evening, which was a blast.
Here Don is regaling us with stories of using decommissioned nosecones of InterContinentalBallisticMissiles as voltage controllers for early synths. For real.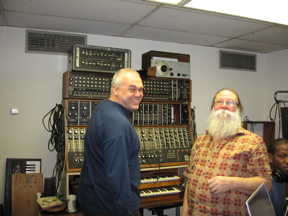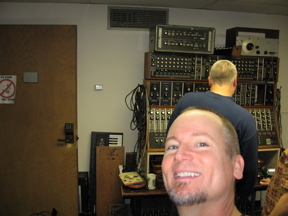 Here is one of the undergrads we worked with, Kaimitsu, who just got accepted to grad school…but I don't remember where…
After the teaching, we had dinner at my favorite diner in the country, The Chicago Diner

and then went and did a live performance on WNUR (Northwestern University Radio)

Mike and Jacob were PHENOMENAL. They did a great job mixing and recording us. That is them in the last pic.