I love Chicago! So when my friend Don Malone invited me to come and play his final recital (retiring after THIRTY-One years) and teach some Master Classes, I said, "of course!" Even better, he had me invite the other Choir Boy, Andrew Pask. This would prove to be another epic Choir Boys trip….(BTW, Steuart Liebig and I did some Master Classes and a show there a few years back. That was also a blast.)
Here is a pic of Don driving me from the airport to the hotel in the Loop: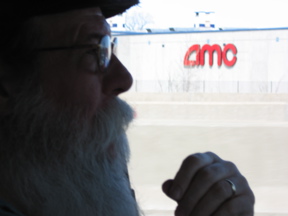 Ah,the beautiful skyline….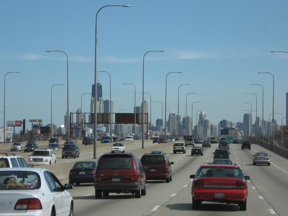 and ubiquitous starbucks…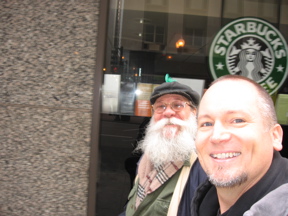 I arrived there a few days before classes (we would teach four) and the performances (five) to hang out with Don and check out the city…here are a few of the reasons I love it….(and look at the weather!)
ARTIST: Alexander Calder
TITLE: "Flamingo"
DATE UNVEILED: October 25, 1974
DESCRIPTION: 53-foot tall red-colored steel stabile
LOCATION: Federal Center Plaza at Dearborn and Adams Streets (Calder's model sits inside the Klucynski Federal Building)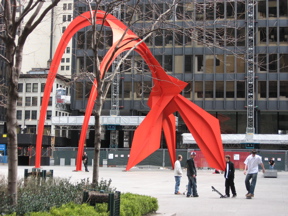 ARTIST: Joan Miro
TITLE: "Chicago" (originally titled "The Sun, the Moon and One Star")
DATE UNVEILED: April 21, 1981
DESCRIPTION: forty-foot tall sculptural representation of a woman with out-stretched arms
LOCATION: Brunswick Plaza on Washington Street (overlooking the Daley Center's Picasso)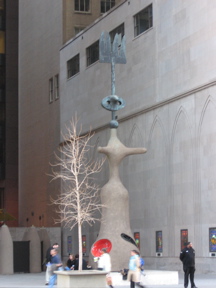 ARTIST: Marc Chagall
TITLE: "Four Seasons"
DATE UNVEILED: September 27, 1974
DESCRIPTION: 70 feet long by 14 feet high by 10 feet wide glass-and-stone mural nicknamed "the boxcar mosaic"
LOCATION: First National Plaza (Dearborn and Monroe Streets)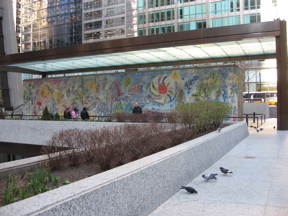 ARTIST: Picasso
TITLE: unnamed (called the "Chicago Picasso")
DATE UNVEILED: August 15, 1967
DESCRIPTION: 50 feet tall and weighing 162 tons, is made of Corrosive Tensile ("Cor-Ten") steel, the same material used to build the Daley Center.
LOCATION: Chicago's Daley Plaza (a public square on the south side of the Richard J. Daley Center at 50 W Washington Street).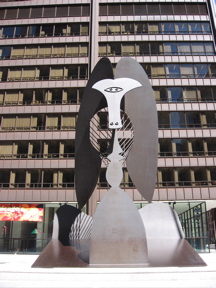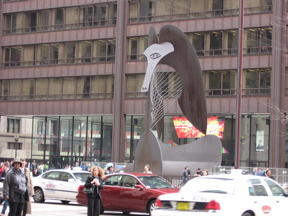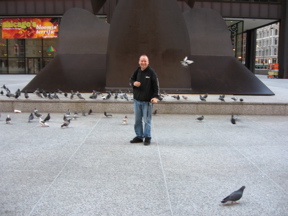 ARTIST: Jean Dubuffet
TITLE: "Monument With Standing Beast"
DATE UNVEILED: November 28, 1984
DESCRIPTION: 29-foot tall, 10-ton white fiberglass monument
LOCATION: James R. Thompson Center (formerly known as the State of Illinois Building)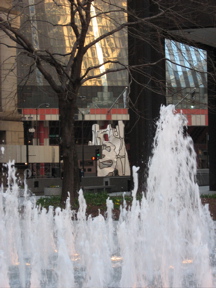 The Crown Fountain (Click for more info)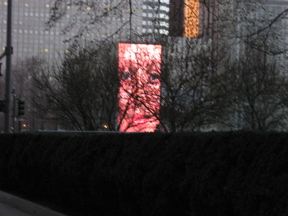 Trains everywhere…didn't need to drive much, even for all those trips to Evanston to get Andrew's soprano fixed (twice….)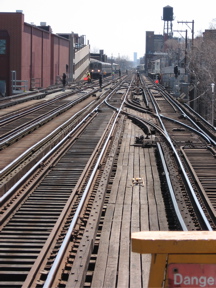 Here I am by the Biograph, where Dillinger was shot.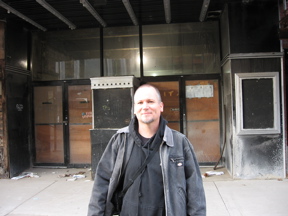 Don setting up the studio for our classes and recording sessions…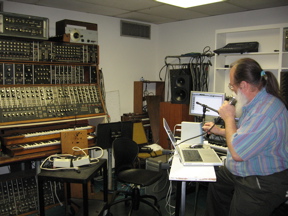 Nice moog modular….original, built by moog himself….(click)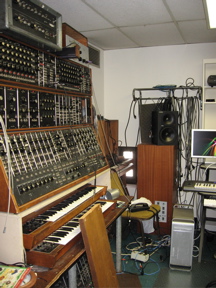 And some skyline shots, including the water tower, one of the buildings that survived the Great Chicago Fire….