What a great weekend. Besides getting a lot of work done in the studio mixing Jeff Denson's album, I had friends visiting to play gigs. Steuart Liebig, Bill Barret, Tony Atherton and Joe Berardi (The Mentones) played Spring Reverb here, as did Hans Fjellestad. Then PLOTZ! and Andrew Durkin's Industrial Jazz Group ended their tour at Dizzy's last night. Kris Tiner drove in after their LA gig Saturday night, and we had a great hang Sunday. He hipped me to more iPhone apps that I knew existed that I now NEED. Including, this screen cleaner.
On to the photos: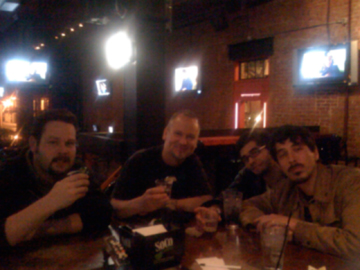 Ian Carrol, me, Phil Skaller, Jason Ponce after the IJG gig.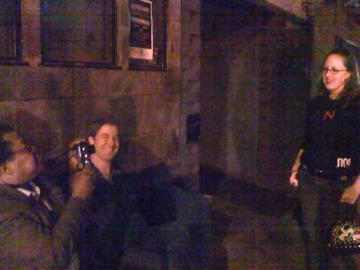 George Lewis, David Borgo, and Miss Hubbard. We had a great talk about Sun Ra and the AACM and George extended some of the ideas in his book, which is a great read. While you're there, check out David's book, which is also a wonderful read. Both books are insightful and thought-provoking, as well as engaging reads.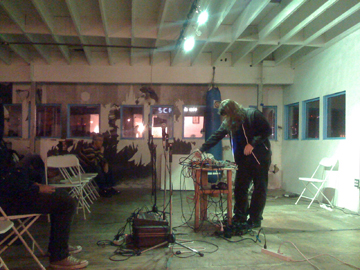 Hans Fjellestad played a beautiful, gritty, bone-grinding set. I do believe some of the sounds he developed during the gig cause calcium depletion. I had a great hang after with Borgo, Bill Barrett and Hans at the Aero Club. Turns out Hans has a taste for the single malts, and they had some decent one's on hand.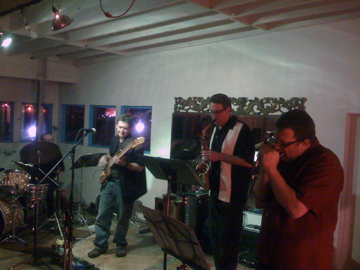 The Mentones: Joe Berardi, Steuart Liebig, Tony Atherton, Bill Berardi burning down Kava Lounge.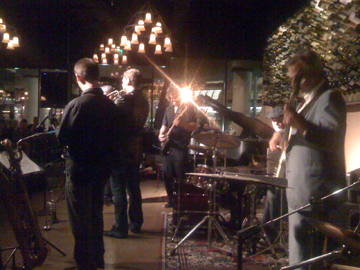 Great to see all my LA/Ventura friends in PLOTZ: Jake Vossler, Dan Rosenboom, Gavin Templeton, Austin Wrinkle, Brian Walsh, Orest Balaban…a smoking set.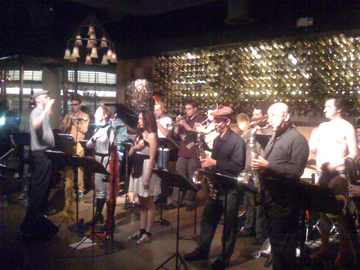 The Industrial Jazz Group played a great set at Dizzy's. Andrew Durkin rocked the place, and in addition to the great music, there were an array of costumes and non-costumes. (For an example of "non-costume," see the clothes challenged trombonist Mike Richardson on the right.)