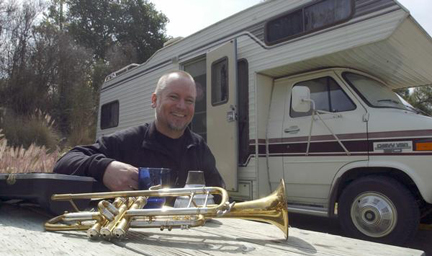 After a farewell show Saturday, Ventura's new-music wizard is leaving for San Diego
By Karen Lindell
Thursday, May 24, 2007
Ventura County Star
"The stranger's nose was no more heard of" is an obscure quotation from Laurence Sterne's "The Life and Opinions of Tristram Shandy, Gentleman," an 18th-century comedic novel.
"Triskaidekaphobic" is the term for someone afraid of the number 13.
The connection between the two is one Ventura musician.
"The stranger's nose was no more heard of" is also the title of one of the 13 tracks/movements/parts of Ventura composer Jeff Kaiser's "13 Themes for a Triskaidekaphobic," a jazzy musical piece that lasts one hour, 13 minutes and 13 seconds, featuring woodwinds, guitars, percussion, theremin, electronics and various odd noises.
It should be apparent by now that Kaiser, also a trumpet player and music teacher, does not follow in the classical steps of Mozart or even an iconoclast like Stravinsky.
Kaiser, 45, composes and performs "new music," also described as creative, experimental or avant-garde music. He founded Ventura's annual New Music Festival in 1990, plays in numerous ensembles and owns the avant-garde pfMENTUM record label and its subsidiary, Angry Vegan Records.
But now, the new-music man has a new venture planned. Kaiser is leaving Ventura to earn a Ph.D. in music at UC San Diego, specifically a program in "critical studies and experimental practices." His goal is to be a university professor.
Along with two of his ensembles, the Jeff Kaiser Ockodektet and Quintet, he'll perform a "Farewell, Ventura" concert Saturday night at Ventura City Hall. The Ockodektet, a mix of 20 or so musicians, will play "13 Themes for a Triskaidekaphobic."
Adventures in music
Kaiser, who's received numerous grants and awards and teaches workshops at schools locally and around the country, has a bachelor's degree in music composition from Westmont College and a master's degree in choral and orchestral conducting from Azusa Pacific University.
He originally planned to be a church choir director. When he was exposed to new music, "At first I thought it was absurd, and a bunch of B.S.," he said. "But I started listening, and letting go of expectations. Then I fell in love with it."
What did he hear differently when listening more closely? "I think I started feeling like listening was an adventure," he said. "I was exploring new lands. It inspired me to be creative. It's about stimulating thought."
Kaiser said his departure to San Diego marks two milestones: the 20-year anniversary of producing new-music events in Ventura (the first was a concert of electronic music with a local poet at a Ventura church); and the 10th anniversary of pfMENTUM.
He's always wanted to be a professor, and the timing finally seemed right. For the past few years Kaiser has been filling in as a substitute instructor at the California Institute of the Arts in Valencia for musician friends when they have concert gigs or tours.
After teaching a new-music ensemble class for an entire semester, "I realized I wanted to be working with those concepts all the time," he said. "I'm looking forward to working at the university level. It was real mind-opening."
San Diego was his first choice for graduate school, Kaiser said, because the school's music department "has a rich history of focusing on music that's being created now."
His chosen field, "critical studies and experimental practices," he said, explores "music that falls between the cracks that combines elements of contemporary, jazz and world music and synthesizes it into personal form." The program is also unique, he said, because it focuses on both performance and scholarship.
Kaiser said he'll probably finish the program in three years, write his dissertation, then go wherever in the country he can find a job as a professor of new music.
He plans to continue working on the Ventura New Music Festival from afar, while musician Robert Sterling, who recently received an Emerging Artist Fellowship from the city of Ventura, will take over as the "nuts and bolts director."
'Free-for-all electronics'
Kaiser's not taking a hiatus from pfMENTUM, either, although he's lining up others to help him keep the record label going.
For the uninitiated, listening to audio excerpts of albums available from pfMENTUM's Web site, http://www.pfmentum.com, can be a jarring sonic experience.
For example, the recent pfMENTUM release "Into the Maelstrom," by a trio called The Transhumans, is described as "merging free-jazz drumming with free-for-all electronics."
Percussionist Brad Dutz's "When Manatees Attack," which includes a song called "Insulated Potato Wedges," features an oboist, cellist and bass clarinetist accompanying Dutz on marimba, vibes, xylophone, congas, bongos, bones, cajon, riq, doumbec, darabuka "and other percussion products he hit when the computer was on."
Kaiser has created his own computer software for "processing" music, and often performs with his laptop on stage. "I play my trumpet into it, chop it up and do all sorts of odd things to it," he said.
Saturday's concert, however, will be an all-acoustic affair. The quintet, which Kaiser describes as a "crazy rock jazz band," will play a short set, followed by the Ockodektet.
Try it you might like it
In Ventura, Kaiser said, he's found "a surprisingly appreciative audience. The city itself has been wonderfully supportive, giving us access to City Hall to do concerts."
He does have naysayers, however. "A lot of people think I'm just odd," he said, laughing. "They don't see the bigger context of what I'm doing."
Kaiser's hoping for a more positive response at this weekend's City Hall concert than what he encountered his first time there.
At Ventura's inaugural ArtWalk in the 1990s, Kaiser said, he played at City Hall with his trio Maha Cuisinarte ("I guess it means 'the great blender,' he said of the group's name).
"There were hundreds of people," he said. "We emptied that place so quickly. Only about half the audience stayed. But those who stayed really liked it."
******************
Trumpet player Jeff Kaiser, who's been on top of Ventura County's avant-garde music scene for more than 20 years, will soon steer his RV south to graduate school in search of a Ph.D. But first he'll say goodbye to Ventura with a concert on Saturday at City Hall.
Jeff Kaiser
Who: Composer, trumpet player, teacher and Ventura's resident new-music guru; founder of the Ventura New Music Festival.
Record label: Owns pfMENTUM records and its subsidiary, Angry Vegan Records (Kaiser said the name is a joke; he is a vegan, but a happy one ).
Performing credits: Include stints with Headless Household, Los Angeles Trumpet Quartet, Michael Vlatkovich Brass Trio and Motor Totemist Guild; also played music for the HBO series "Deadwood."
Grad school: Already has a master's degree in choral and orchestral conducting from Azusa Pacifica University; is enrolling in UC San Diego's Ph.D. music program.
Albums: Kaiser's latest release is "Zugzwang," with Tom McNalley. AllAboutJazz.com critics described it as "a creative affair where noise plays a major role. Kaiser is on fire with his squealing horn."
Why he drives an RV: "It's great to use to get away," Kaiser said. And if San Diego housing prices are anything like Ventura's, it will be home when he moves down south.