KaiBorg is:
Jeff Kaiser
Quartertone Trumpet/Laptop
David Borgo
Saxophones/Laptop
KaiBorg explores the intersections of cutting-edge computer music and contemporary improvisation. Employing custom signal processing techniques and hardware mapping strategies, the musicians perform on "hybrid instruments" that extend their acoustic sonic palettes and afford new spatialization opportunities, all without sacrificing the sense of intimacy and speed of interaction required in improvised settings.
KaiBorg's music has been described as "a surging sonic kaleidoscope" (San Diego Union Tribune) filled with "strange sounds and odd surprises" (Babysue) that "alternately overwhelm the senses and gives pause for contemplation" (Gapplegate Review); "quite cosmic, yet never indulgent" (Downtown Music Gallery).
KaiBorg has performed internationally at STEIM (Studio for Electro-Instrumental Music) in Amsterdam and The University of Göteborg and the Brötznow club in Sweden, and closer to home at NWEAMO (the NorthWest Electro-Acoustic Music Organization), the International Society for Improvised Music conference, the UC "State of the Arts" festival, the gala opening of the Conrad Prebys Music Center at UC San Diego, and the Palomar College Concert Hour.
David and Jeff co-authored an article about their work, "Configurin (g) KaiBorg: Interactivity, ideology, and agency in electro-acoustic improvised music." It is available by clicking this link.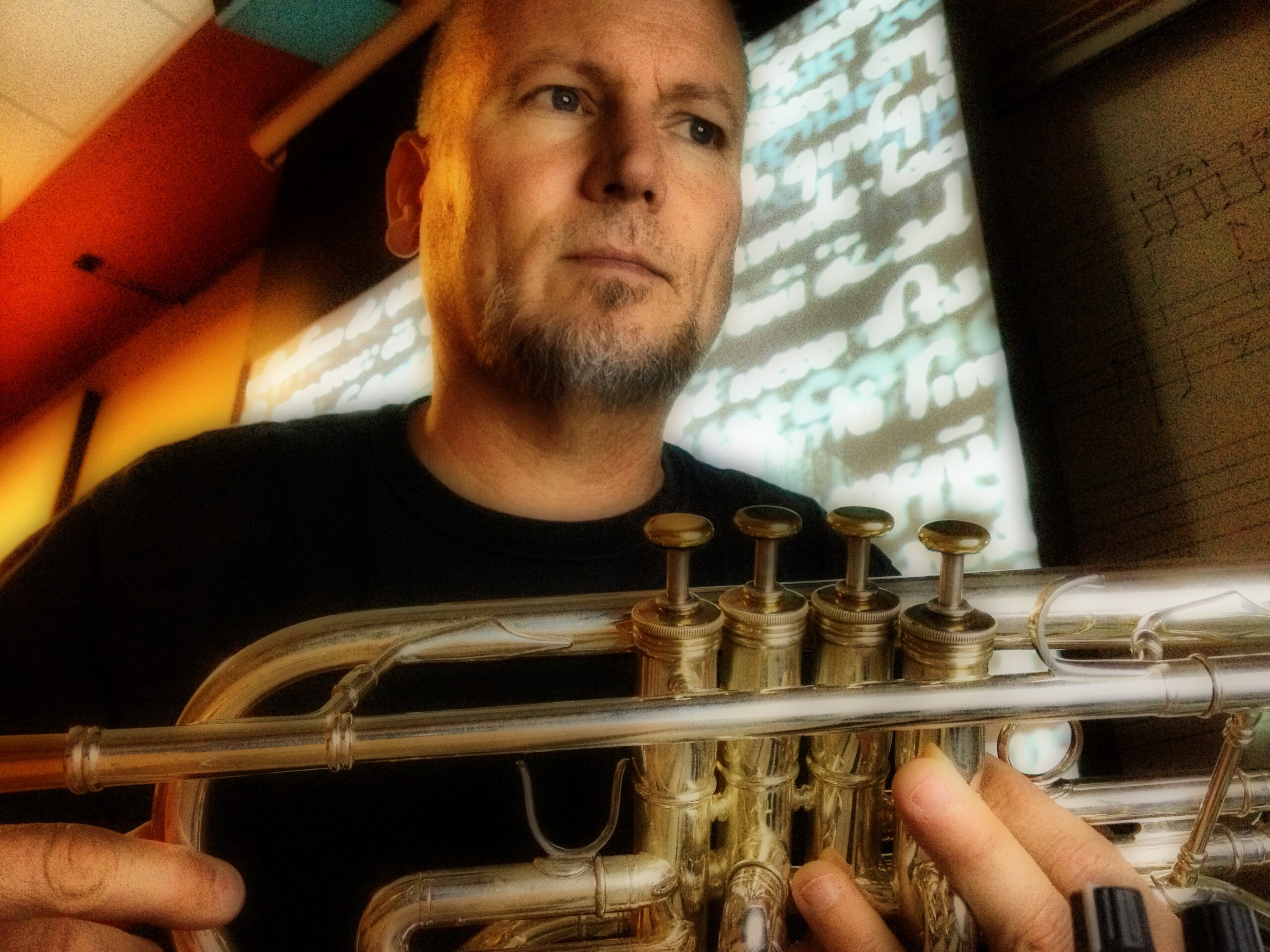 Jeff Kaiser is a trumpet player, composer, conductor, music technologist and scholar living in Warrensburg, Missouri. Classically trained as a trumpet player, Jeff now views his traditional instrument as hybrid with new technology (in the form of software and hardware interfaces) that he creates for his dynamic and adventurous performances and recordings.
Jeff gains inspiration and ideas from experimental composition and improvisation and the timbral and formal affordances provided by combining traditional instruments with emerging technologies. The roots of his music are firmly in the experimental traditions within jazz, improvised and Western art music practices. He considers his art audio-centric, but he also works with live video, tracking and interactive technologies.
Embracing the idea of being an artist/scholar, Jeff holds a Ph.D. in Integrative Studies (music), from the University of California San Diego. He is an Assistant Professor in Music Technology and Composition at the University of Central Missouri.
For more information: https://jeffkaiser.com/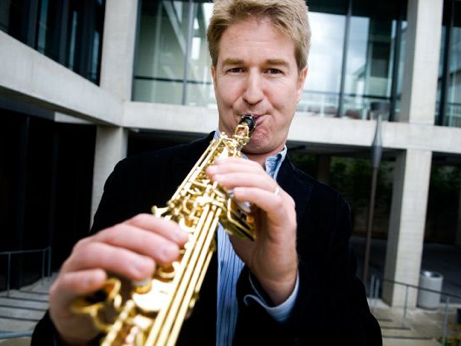 David Borgo is a saxophonist, composer, ethnomusicologist (Ph.D., UCLA 1999), and Full Professor of Music at UCSD, where he teaches in the Integrative Studies and Jazz and Music of the African Diaspora programs. Throughout his career, he has integrated his creative work with scholarly research focused on the social, cultural, historical and cognitive dimensions of music-making.
David's book, Sync or Swarm: Improvising Music in a Complex Agewon the Alan P. Merriam Prize in 2006 from the Society for Ethnomusicology as the most distinguished English-language book published during the previous year. His research also appears in Jazz Perspectives, Black Music Research Journal, Journal of Popular Music Studies, Journal of Consciousness Studies, Parallax, Open Space, The Springer Handbook of Systematic Musicology, Soundweaving: Writings on Improvisation, Taking it to the Bridge: Music as Performance, Sound Musicianship: Understanding the Crafts of Music, and The Oxford Handbook of Critical Improvisation Studies.
As a saxophonist, David has released eight CDs and one DVD and he has toured internationally, including performances in Europe, Asia, Mexico, Canada, and Brazil. He has studied and/or performed with many of the greatest jazz musicians, including Herbie Hancock, David Liebman, Billy Higgins, Kenny Burrell, Gerald Wilson, Harold Land, David Baker, Snooky Young, George Lewis, Evan Parker, Sam Rivers, John Tchicai, Anthony Davis, and Mark Dresser. He currently performs with his duo KaiBorg, which explores the intersections between free improvisation and live digital signal processing, and with his sextet Kronomorfic, which explores polymetric time.
For more information: http://davidborgo.com/
Select Reviews:
David and Jeff record music that seems to draw theoretically from German progressive/experimental artists from the 1970s...but the sound is much more current and relies on bizarre twenty-first century technology. The way the duo manages to incorporate saxophones and trumpets into the mix is particularly strange and appealing. This is a wildly experimental album full of strange sounds and odd surprises. The tracks are more like sound collages than music. Because of the far out nature of these pieces it is difficult to describe this album. If you like real experimental music, there's a good chance this music will elevate you to another level… One of the crazier albums yet to be released by this esoteric label... TOP PICK.
—Baby Sue
Since both Jeff and David play laptops as well as mutant instruments with extended techniques, there are a number of strange sounds which are not so easy to identify. Weird drones, twisted wind sounds and electronic whatnot swirl around one another in different layers and in unusual combinations. What makes this special is the way the acoustic wind sounds and electronics blend together into one strong, integrated sound. The overall sound is often weird yet everything evokes fascinating and provocative images. Although Mr. Borgo plays soprano & sopranino saxes, usually those saxes are manipulated and altered in all types of strange ways. The same with the trumpet, if we didn't know better it would be hard to tell who is playing what. Most often these sounds are quite cosmic yet never indulgent. Occasionally bizarre, but no less riveting.
—Bruce Lee Gallanter, Downtown Music Gallery
The world of electronic music has altered drastically since the days of Milton Babbitt and the RCA Synthesizer. . . one man in extended real- virtual time with a wall of glowing tubes and tediously compiled punch cards. You can do things on a laptop or two live that used to take months in the studio to accomplish, tape splicing block in hand. New software gives improvisers the ability to incorporate live electronics into their performances without a mass of equipment. Of course making things easier does not always lead to more "masterpieces." You get what the musicians' ideas can accommodate. Happily there is nothing ill-considered, unimaginative or hastily conceived in the music of today's posting.
KaiBorg's new CD Harvesting Metadata (pfMENTUM 058) reflects contemporary technical developments with music that entertains, challenges and stimulates. KaiBorg consists of reedman-composer David Borgo and composer-quarter-tone- trumpeter Jeff Kaiser. Together they explore the electro-acoustic interstices with a varied program of pieces that alternately overwhelms the senses and gives pause for contemplation. There are moments of thick electronic texture and quieter way stations of comparative repose. Free-style improvisations have counter ballast in the electronics that give form to a dialog between two imaginative players and their performance resources.
This music can at times be a bit abrasive but always expressive. It's an impressive outing.
—Gapplegate
By the sonics that guide my ears, there is little more exciting than music like David and Jeff perform here as "KaiBorg"; of course, my aural appendages are ever-so-slightly jaded, twisted & bent, so some of you reading this will wonder why I'm reviewing it. All you have to do to find out the answer to that question is listen to the marvelous/intriguing "Flow Control"... make sure you do it with 'phones on, and you'll hear the attraction right away
(unless you're such a sonic sludgemudgeon that you can't stand "different"). I've been listening to Jeff's work for many years now, & reviewed one of David's CD's way back in issue # 69; these gents are veterans, & musically well-educated vets, at that. Great music for adventurous listeners... for me, it was the mysterious "Postural Schema" that got the vote for favorite track... bottom line is that if you love aural adventure, you'll have to have this superbly constructed CD in your collection. It certainly merits my MOST HIGHLY RECOMMENDED and gets an "EQ" (energy quotient) rating of 4.98.
—Rotcod Zzaj