The Choir Boys!
Jeff Kaiser and Andrew Pask
Everyone's plugged into something and the result is an urgent, witty and often moving collage of acoustic and electronic sound which doesn't draw attention to itself, but lets some genuinely powerful music come through.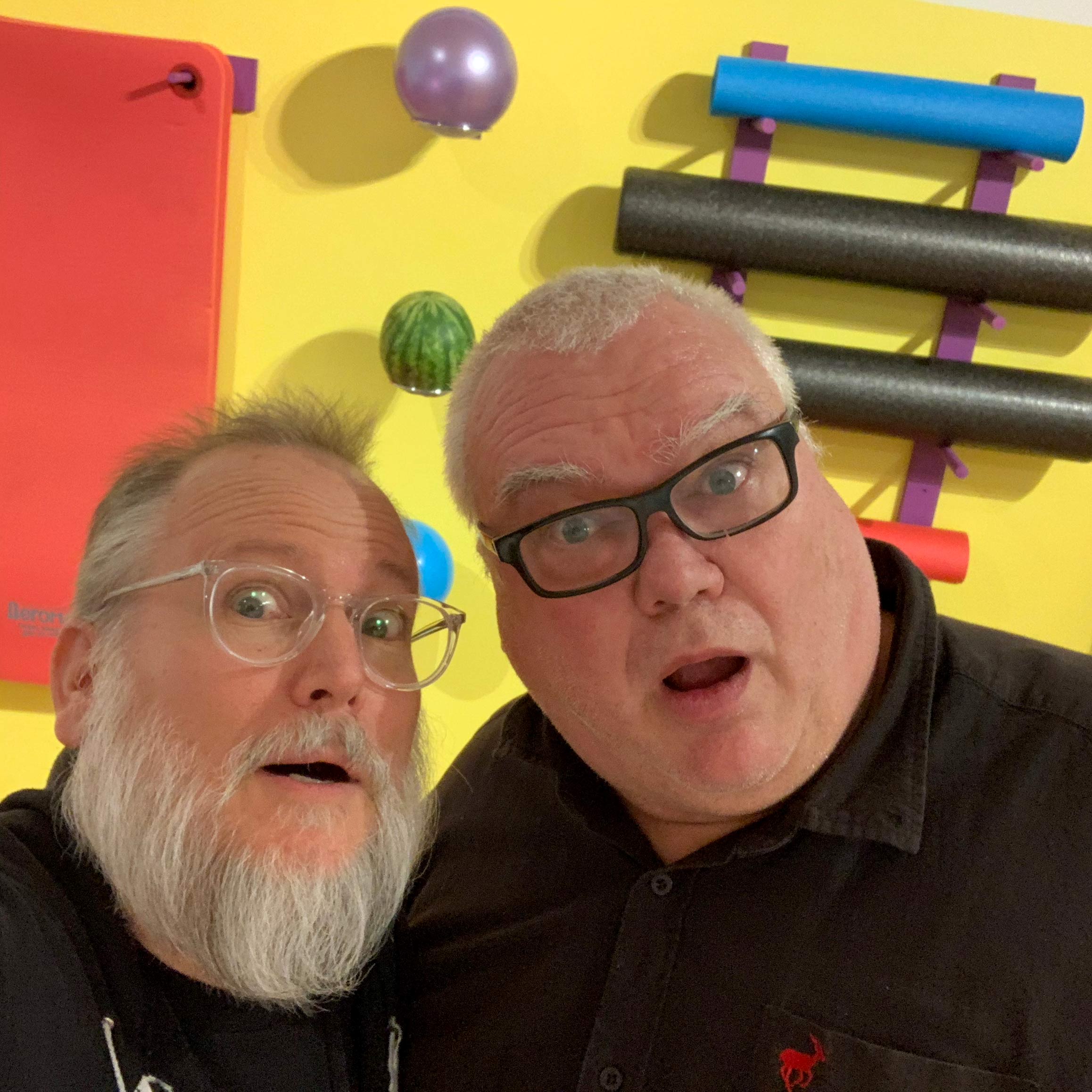 The Choir Boys have been playing together since the early 2000's in creative formats including outdoor multi-building spatialized improvisations using hotels and parking lot roofs, as well as pubs, art galleries, concert halls, and more.
They are currently working on a new project, "The Choir Boys with Choir" that will premier March 17 at MOXsonic 2023.
---
Jeff Kaiser: Bio (click here)
---
Andrew Pask, originally from New Zealand, plays clarinets, saxophones, and live electronics. He studied and played in his hometown of Wellington before heading to Hong Kong where he worked as a studio musician, performed on albums for Cantopop stars, and played jazz all over Asia. Since arriving in Los Angeles in 1999 he has become an integral part of its creative music scene. It was at this time that he met Jeff Kaiser and they have been performing and recording ever since as "The Choir Boys."
He has also recorded several albums of his own music, and performs regularly in Los Angeles and around the U.S. Andrew's other interest is computers. He is on the executive team for Cycling 74, a new media music software company owned by Ableton, the makers of Live, where he designs custom software for artists and touring shows and develops components for modular synthesizer systems. Andrew has been a freelance technical consultant for numerous projects from Asia to America, working, among others, for Michael Jackson, Jay Z, MIA, Trey Songs, Lyle Mays, and Drake, and has built virtual instruments for Hollywood film composers Hans Zimmer and Cliff Martinez.
Pask played clarinet for a season of Andrew Lloyd Weber's "Cats" in Honk Kong, has worked for the last five years designing and programming Herbie Hancock's live performance setup, large scale installation programming with the Denver Art Museum, and is famously featured playing saxophone on a Richard Simmon's workout video.
---
BELOW is the HTML from our original website, trippyhorns.com
***
Jeff Kaiser and Andrew Pask are The Choir Boys, at home here on TrippyHorns.com
"Sound sojourners Jeff Kaiser and Andrew Pask create a unique sonic landscape..."
- Rex Butters, AllAboutJazz.com
"'Trumpet' and 'sax' will hardly enter your mind when Jeff Kaiser and Andrew Pask, as The Choir Boys, electronify their instruments for rumbling space abstractions and shattering brain blasts. "
-Greg Burk, LA Weekly
"You'll feel as if you've been transported outside time, space and linearity. We may not know whether androids dream of electric sheep, but they will surely groove to The Choir Boys."
-- Marco Rivera, http://www.splendidezine.com/
"Everyone's plugged into something and the result is an urgent, witty and often moving collage of acoustic and electronic sound which doesn't draw attention to itself, but lets some genuinely powerful music come through."
-Brian Morton, The Wire
"This is quite far from what most folks would expect from a quartet of trumpet, clarinet, bass guitar, and electric guitar...The playing is thoughtful, varied, and controlled, but it's a far cry from the kind of restrained improv that's common these days. These cats let loose with a rambunctious and gleeful spirit that reminds me of Sun Ra going into his most cosmic zone..."
- Michael Anton Parker, Downtown Music Gallery, NYC, NY
The Choir Boys: Jeff Kaiser and Andrew Pask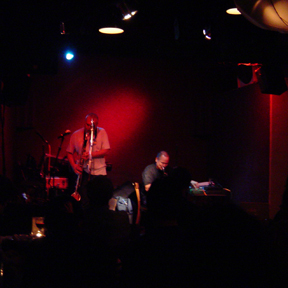 (photos by Kelly Nielsen-
click on any image to download hi-res version)
top - bios - events - mp3s - discs - reviews
Jeff Kaiser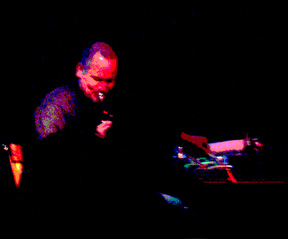 Andrew Pask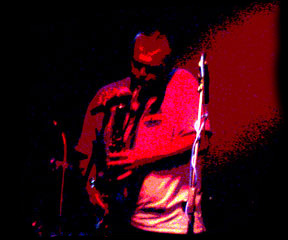 Jeff Kaiser is a vegan and plays entirely too much chess on the internet. He is a big fan of yoga and green tea, as well as cigars and scotch. He also plays the quarter-tone trumpet with software he has developed specifically for the Choir Boys using Max/MSP. Jeff has performed with many groups from the Vinny Golia Large Ensemble to his own band, the Jeff Kaiser Ockodektet. He performs all over the place, including for the big screen, the little screen and more...erm...screens.
For more information on Jeff Kaiser visit:
JeffKaiser.com
Andrew Pask is from New Zealand. He studied and played in his hometown of Wellington before heading off to Hong Kong where he worked as a studio musician, performing on albums for Cantopop stars and playing jazz all over Asia. Since arriving in Los Angeles in 1999, he has become a part of the creative music scene there, playing with Vinny Golia's Large Ensemble, also in Vinny's clarinets project, with Steuart Liebig in Lane End Merge Left and Stigtette, and with other people like Nels and Alex Cline, Jeff Gauthier's bands, and with Jeff Kaiser.
Andrew's other interest is computers. He works for Cycling 74, a music software company based in San Francisco and has been a freelance technical consultant for the studios of Ice T, Michael Jackson, Moonshine Records, and others. He has also performed and composed for the stage and film for numerous projects from Asia to America. For the Choir Boys project, Andrew has developed a generative sound-processing rig for modifying the sound of his acoustic instruments.
top - bios - events - mp3s - discs - reviews
For Concert Information:
Click Here To listen to:
"Wheeling Rebus" from The Choir Boys
Click here
To listen to:
"Dim Effigies" from The Choir Boys
Click here
To listen to:
"Rest of the Skeleton" from The Choir Boys with Strings
Click here
For more info or to purchase our CDs:
The Choir Boys CDs and other individual recordings by Jeff Kaiser and Andrew Pask are available from IndieJazz.com, Cadencebuilding.com, Downtown Music Gallery and Jazz Loft.com. The Choir Boys recordings are also available for digital download from Jeff Kaiser's digital sales site.
Click here here for The Choir Boys (pfMENTUM CD024)
Click Here for The Choir Boys with Strings (pfMENTUM CD037)
top - bios - events - mp3s - discs - reviews
***The Choir Boys with Strings***
Trumpeter JEFF KAISER and clarinetist/saxophonist ANDREW PASK perform together as "The Choir Boys"; on their latest album, they've teamed up with guitarist G.E. STINSON and bass guitarist STEUART LIEBIG for THE CHOIR BOYS WITH STRINGS (pfMentum PFMCD037). Kaiser has a lively approach that makes equal use of acoustic and electronic effects – he's one of the few players I've heard lately to make genuinely creative use of echo – and Pask gives the music plenty of bite with his distracted, angry-hornet alto and clarinet playing, reminiscent at times of Anthony Braxton. The guitarists are stranger and more elusive presences, whose activities are often responsible for shifts in the entire sonic environment: soundscapy bits where jazz horns stand out against abstract electronic backdrops, noisy four-way blitzes, passages of electroacoustic austerity, awesome pile-ups of distortion and reverberation, intricate on-the-hoof fugues created by means of loops and echo. Indeed, it's the way that the disc steers a path between various genres of improvisation that's particularly impressive: at one point, for instance, the electronics give way for a lovely passage of straight-up acoustic improv on "Frenchwoman Luggage Cart," and there's a nice, squelchy groove that comes into play on "Definitely Jack." Excellent stuff all round, the quartet sustaining nearly 80 minutes of improvisation at a consistently high level of invention.
Nate Dorward, Cadence, August 2006
Recorded live in two large suites at Ventura College Theatre by the quartet of Andrew Pask clarinet, bass clarinet, alto and bass penny whistle, Jeff Kaiser on trumpet and a version of Don Ellis's quarter tone instrument and GE Stinson and Steuart Liebig on guitar and bass guitar respectively, The Choir Boys With Strings serves to show how slow someone like Anthony Braxton has been to wake up to the potential of electronics in improvised music. One can imagine someone like George Lewis taking part in something like this, though the language is closer to the saxophonist's. Everyone's plugged into something and the result is an urgent, witty and often moving collage of acoustic and electronic sound which doesn't draw attention to itself, but lets some genuinely powerful music come through.
-Brian Morton, The Wire May 2006.
Electronics spin the ruptured progressions of Kaiser's trumpet into so many kaleidoscopic variations, thickening the texture of the music and constructing a bevy of relationships, each fraught with significance...highly cerebral electronics perform an act of cannibalism on the other instruments, blurring the crests and tropes of the compositions and emitting a pastiche of wailing horns and low synthetic hum that is uncanny...It is an onslaught that, though unnerving, does not destroy, but rather tests and strengthens the conceptual apparatus through which one engages with such music in the first place.
Max Schaefer, Signal To Noise, Summer 2006
CHOIR BOYS WITH STRINGS [JEFF KAISER/ANDREW PASK/STEUART LIEBIG/G.E. STINSON] (pfMENTUM 037; USA) This is quite far from what most folks would expect from a quartet of trumpet, clarinet, bass guitar, and electric guitar, but it won't be a surprise to anyone familiar with Kaiser and Pask's previous duo work under the Choir Boys moniker. This is an electronic processing blowout, all four players largely masking the conventional sounds of their instrument with outer space swooshes and asteroid streaks. Kaiser (trumpet, quarter-tone trumpet, flugelhorn, electronics) and Pask (clarinet, bass clarinet, alto sax, bass penny whistle, electronics) are damn fine players, so my favorite parts come when the organic feeling of their horns finds a balance with the electronics. The playing is thoughtful, varied, and controlled, but it's a far cry from the kind of restrained improv that's common these days. These cats let loose with a rambunctious and gleeful spirit that reminds me of Sun Ra going into his most cosmic zone. Liebig and Stinson are hardcore veterans of the kind of multi-layered textural guitar extensions they focus on here, to the point where I'd strongly recommend this disc to fans of the general space/ambient genre who might have a hankering for some serious turbulence as they drift away.
- Michael Anton Parker, Downtown Music Gallery, NYC, NY
No, actually, no pure voiced choir boys or lush orchestrations turn up here. Hunt if you must and try and uncover them. At the opening pitches, your ear is plunged into an electronic search for signal playing tag with acoustic contributions from the clarinet. Sometimes the sonic clouds clear and off in the distance you see it, yes it, over there, but the fog rolls in before you can possibly get there. The lines are crossed, the vision blurred, the dream continues. But wait, over there, there it is. No, wrong again. Here is half of a cell phone call to Saturn relayed through an outdated videogame unit. Is he frustrated? Damn straight he is and he wants to go home. Please come and pick him up. He'll be waiting, waiting over there, next to it. You know. And hurry if you can.
— MS, www.newmusicbox.org/earmark_archives.nmbx
The Choir Boys - The Choir Boys With Strings (CD, pfMENTUM, Experimental/modern classical/jazz/electronic)
Anyone who is familiar with Jeff Kaiser, Andrew Pask, G.E. Stinson, and Steuart Liebig will have a good idea of what to expect from The Choir Boys. These four underground kings of improvisation got together and recorded two lengthy pieces at the Ventura College Theatre in California on October 5, 2005. Thus, The Choir Boys With Strings was born. Atmospheric electronics collide with elements of modern classical and modern jazz and rock to create heady and confusing music that will only appeal to a small, eclectic segment of listeners. Similar in intent and scope to early Tangerine Dream, The Choir Boys With Strings is an audio experience in which anything can and does happen. Despite the fact that the album features two continuous pieces "track numbers have been added for convenience." Cool, creative, and ultimately obtuse...this album is creative, engaging, and thoroughly unpredictable. (Rating: 5+)
March 2006, http://www.babysue.com/
Album enregistré plus tôt par le trompettiste Jeff Kaiser et le clarinettiste et saxophoniste Andrew Pask, The Choir Boys est récemment devenu quartette. Avec le soutien des guitaristes G.E. Stinson et Steuart Liebig, la paire d'origine renouvelle en public ses expériences électro-acoustiques. Chacun des quatre membres faisant généralement usage d'apports électroniques variés.
Et voici passées en machines clarinette basse (frénétique sur Needlework Alice), saxophone (prisonnier des échos sur Tobacconist from Rimini) et trompette (au charme retardataire sur Rest of the Skeleton). A l'image de la lutte engagée par l'alto de Pask contre le traitement informatique qu'on lui réserve, le quartette se fait acteur et témoin d'une époque défavorable à la résistance prolongée des instruments anciens.
Une fois redéfinis, ils peuvent confectionner un collage aérien (French Woman Luggage Cart) ou servir une progression mesurée, et donc, plus saisissable (Tobacconist from Rimini), qui contraste avec Adulterous Dishwasher, où l'appréhension de la musique immédiate se trouve changée en combinaison d'expressions perturbées.
Partis d'un principe vieux comme le monde – celui de la confrontation -, The Choir Boys a su démontrer de façon originale la malléabilité de l'acoustique sous l'effet des programmations. Ajoutant à la démonstration l'allure distinguée de ses formules.Chroniqué par Grisli
Autres Chroniques de Grisli, http://www.infratunes.com/
In following their duo session, The Choir Boys, with this quartet performance a year later, Jeff Kaiser and Andrew Pask once again reach out into the realm of electronic music, unfettered by convention. The Choir Boys with Strings adds guitar and bass to the mix, giving Kaiser's trumpets and Pask's woodwinds an added layer of sounds. They're wild and raucous throughout, making sure that eerie refrains capture the day.
Each of the four artists converses through his instrument, taking nods from the others and employing a free-flowing stream of ideas. Kaiser's trumpets come in open and muted form, with and without echo. Pask surges forward with his clarinets and alto saxophone, employing a conventional texture in a non-conventional setting. G.E. Stinson colors the session with light sparks from electric guitar as Steuart Liebig crawls raggedly across the bottom.
Throughout the program, each player adds electronic blips and beeps that season the program lightly. They emphasize lyrical musical conversations which weave a thread through this performance among four improvising artists.
Kaiser's trumpet squeals and moans eerily on "Tobacconist from Rimini," while guitar and bass provide walls of reflected sound. When Pask's alto joins the melee, the scene turns helter-skelter. The quartet takes this one on a trip to the moon and back. "Adulterous Dishwasher" brings an airy soliloquy from Kaiser that includes kissing sounds and all kinds of personal trumpet remarks. He's followed by a mechanical tirade that lets guitar and bass imitate a machine while fusing electronics into their mix.
The quartet combines noise with improvised soloing. The basic elements of melody, harmony and rhythm are absent, however, as each artist sculpts his idea of what free-form improvised music should endow. Don't look for soulful impressions or pleasant musical amity. These "choir boys" prefer to stimulate the senses through eerie sounds and varied industrial machinations.
Jim Santella, AllAboutJazz.com
Jeff Kaiser abbandona per un attimo il suo Ockodektet ed in compagnia del neozelandese Andrew Pask ci sforna un dischetto agile/pesante di notevole spessore. In sintesi siamo di fronte ad un oscuro viaggio misticheggiante fra schizzi jazz, paturnie improvvisative più accese, deviazioni inqualificabili e un'elettronica stiracchiata verso il basso che sfiora spesso derive dark ambient (sto usando questo termine per la seconda volta in breve tempo ed in recensioni di materiali del genere.Che vuol dire?). Stupiscono di molto gli attacchi brutisti di Dim Effigies dove oggettivamente ci si trova di fronte ad una furia iconoclasta raramente data a vedere dai due strumentisti, assalti in quasi distorsione, cupe brutalità elettroniche di qualche lontana matrice industrial ed un belante motivo impro per fiati che malevolo si leva in alto. Confonde non poco le idee, e questo è un buon segno (1).
Possibile variazione di Japa noise germogliato sotto il sole cocente della California, la frammentazione delle note di Pask che si disperdono nel vuoto looppandosi su se stesse provoca notevole senso di straniamento generale.
Convince molto il processo d'interferenza elettronica continua alla quale viene sottoposta la performance del duo, innesta in qualche maniera la marcia in più; discosta in maniera determinante il tutto dalla solita uscita di settore. E questo è un buon segno (2).
Avevamo apprezzato il lavoro in solitaria di Kaiser ma ad onor del vero lo consideravamo uno dei tanti nomi del panorama (senza nessun offesa sia detto, ognuno si sceglie il proprio orticello su cui pascolare), questa uscita sconfessa tutte le nostre cogitazioni irrispettose.
Sarà l'asciuttezza data dalla formula a due, sarà probabilmente una fugace forma di insofferenza; sarà quel che più vi pare. Avete a che fare con uno dei più stimolanti prodotti degli ultimi tempi in campo improvvisativo. Bello constatare come l'accostamento acustico/elettronico se debitamente agitato può dar luogo a queste mutazioni sconsiderate. La sensazione di ascesa che si prova in Carbon Icon grazie all'entrata di un'onda cupa dopo la parte acustica è emblema unico di un linguaggio che pare volersi stiracchiare all'infinito sino a lambire (non sono impazzito) estasi rituali di lontana matrice tibetana. Si sguazza in una visione costantemente a mezza strada fra il sacro ed il profano. Da qualche parte si agitano spettri di Evan Parker, di Brötzmann, addirittura lontani richiami alle agitazioni storiche degli AMM; ma non abbastanza da non lasciar trapelare la sincera vena creativa che si agita sotto il tutto. Le frastagliate fasi che agitano The Variability Of Stammering Arrows fanno addirittura puntare lo sgurdo su certa scena inglese anni 80 con tutte le dovute cautele del caso (Clock Dva, Cabaret Voltaire; Hula). Incubica calata negli altiforni industrial che se martellata più sulla carrozzeria avrebbe potuto essere filiazione diretta dei God o degli Slab; chiaramente il tasso di tracimazione sonora qui viene tenuto molto più sotto controllo. Tromba e clarinetto senza nessuna esitazione stilistica, questo ci piace; lo spirito suicida esposto.
Putrefazioni di materia jazz lasciata finalmente urlare libera senza giacca e cravatta a creare lo stile, maglie nere hardcore idealmente ad un passo (provateci ad immaginare dentro una sezione ritmica).
Possibile epigono minimalizzato dei Fat o a scelta, rituale balinese al tramonto; e questo è un buon segno (3). (4 Stars)
Marco Carcasi, http://www.kathodik.it/
***The Choir Boys***
THE CHOIR BOYS (pfMENTUM 24) features trumpeter JEFF KAISER with multi-instrumentalist ANDREW PASK, who employs clarinet, bass clarinet, soprano sax, alto sax, tenor sax, bass, and pennywhistle in a collage of electronic and acoustic sounds that reveal an interesting musical adventure. It's a spiritual journey that runs far and wide. The artists who contribute to the unique character of the pfMENTUM label are searching. They're looking for new and different ways to demonstrate the full extent of their creative powers. Noise and programmed electronics combine with musical tones on this album by two experimenters in the field. Pask brings a muscular approach to his woodwind instruments, while Kaiser prefers to surround the performance arena with mystic colors and hypnotic drones. The airy tone of Pask's clarinet flirts with Kaiser's tightly muted trumpet in a whirlwind of ideas. Later, his fluid bass clarinet runs up and down in cascades that never end. Pask's saxophones introduce threads of Jazz history to the session, while Kaiser's open horns reveal virtuosic technique. Snippets of melody dance about with animated motion, as the two artists return again and again to a theme of spirituality. While the album's cover art depicts scenes from the church, the duo's music (Wheeling Rebus/ Dim Effigies/ Carbon Icon/ The Variability of Stammering Arrows/ Blue Air Habit/ Tumbling Abstention/ Reliquaries. 73:48. Oct. 16-17, 2004, Los Feliz, CA) moves far beyond the walls of that hallowed institution. Science Fiction and deep philosophic studies carry a large part of its connotation. You can feel the spirit of the session moving you toward some kind of target light at the end of a tunnel. While much of the album's textural matter appears dark and dramatic, Kaiser and Pask leave plenty of room for uplifting interpretations. Free music begets free interpretation. Kaiser and Pask, both highly creative artists, have succeeded in opening doors for continued study of their musical product.
Jim Santella, Cadence, May 2005
This work is a violent yoking together of diverse traditions. With woodwinds and horns, Kaiser and Pask negotiate their way through a chamber of crackles, squeals and raw noise, offsetting rigorous compositional schemata with cogently placed pockets of improvisation.
At first, the sound is orchestral in its well-turned intonation and clarity, but then Kaiser provokes a telling counterpoint through the craggy confrontation of mutilated trumpet and saxophone that pockmarks "Dim Effigies". The piece has a dark, clanking momentum, rich in traces of Xenakis and the sourer moments of Morton Feldman's orchestrations.
Kaiser and Pask attack their instruments with relish, working up a real head of psychedelic steam and achieving a plateau of whirling dervish ecstasy. After the fog lifts, bass clarinet, trumpet and saxophone pit themselves against the abrasive atmosphere of the piece, plunging deep below the surface of the atonal patterns and emerging with rich, melodic ideas of their own. All of this denotes a wonderfully disciplined and cohesive recording that accumulates considerable architectural impact as it progresses through its seventy-three minutes.
In addition to their loose-limbed propulsive force, there's a wealth of textural detail in their unobtrusive use of electronics, while the ever present electro-acoustic burr of scraping, rustling instrumentation lends the whole a deliciously organic appeal. Each musician listens and responds naturally; pieces never feel unfinished and flow into one another, making the effort seamless and concise, but never terse. This duo finds pleasure in the sound and shape of skewed identities, and their rhythmic combinations ooze generously form these pieces. Their focused symbiosis of breath and circuitry strives toward the deep fusion of instrumental resources that collaborators like Supersilent occasionally accomplish.
Meanwhile, "The Vulnerability of Stammering Arrows" is a creepy froth of industrial grinding, buzzes and rasping flugelhorn that mutate into a soundscape of overlapping drones and looping tones. Simultaneously wound up and precise, the nearly unrecognizable, sustained notes of a trumpet are interspersed with brief interludes of silence. The unfolding feels improvised, but the resultant piece has layered depth and strange sonorities that suggest careful arrangement and calculated effect. Woodwinds are shrouded in booming feedback-like resonance, timbres suggesting electronics and the audible beating of clustered overtones.
Throughout, Kaiser and Pask engage in the notion of a dialectical unity of opposites: Kaiser crafts open-ended textures and drones while Pask brings firm forms by way of his robust and decisive playing, and the two opposites cue each other in an ever-ongoing project. Such an issue also works to imbue the proceedings with the presence of absence, of a separation that must be maintained in each engagement in order that something might be disclosed. That being said, as perhaps evidenced by the generally melancholy disposition of the textures, there remains a desire to overcome this tension and risk. With their continued choice to not merely sustain, but also surpass, themselves into surprising modulations of sound and structure, this pair seems to side with laceration, and has crafted an enthralling album as a result.
Max Schaefer, June 2005, http://lostatsea.net/
Horns, woodwinds and real time processing can go a long way if manipulated by inventive and inquisitive musicians. Leaving well behaved transgressions within delineated contours of judgement and irony, Pask and Kaiser draw an alternative way to multi-dimensional explorations of airy territories that - even considering the scarcity of instruments - maintain an oblique orchestral flavour which is the record's very strength. Both artists wear their remarkable technique without a whiff of megalomania, questioning their directions every minute, leaving precious thinking room to each other and emanating contrapuntal intelligence over the course of the whole work. And if hints of irreverence appear, they are promptly wrestled by a unanimous connection to bittersweet melancholies and independency statements that a sapient effect treatment transforms into architectures of extravagant lucid dreams.
Massimo Ricci, Touching Extremes, May 2005 touchingextremes.org
Alien electronics of the most dense, textural and sometimes frightening kind -- that's what LA improv scenesters Kaiser and Pask offer on these seven mysterious excursions in the wonders of pure sound. Interestingly enough, these icy, veiled sound sculptures, created with the aid of a varied array of wind instruments including quarter-tone trumpet, flugelhorn, clarinet, assorted saxophones and bass penny whistle, were recorded live in the studio with no overdubbing or pre-recorded samples involved. There's some serious processing action applied on the fly, though -- not as post-production retouching gloss but as an integral part of the execution itself, using filters, FX pedals, echo and reverb units and whatnot in order to enhance the alienating nature of the timbres they can elicit from their traditional instrumentation. What the duo accomplishes through these means is so rich, multilayered and versatile that it's no wonder their compositions take so long (the shortest track clocks in at 5:47) to unfold and develop into monstrous astro-polyhedral jams. The fact that Pask is also a distinguished computer expert who collaborates with software companies probably explains the luxury of having such a complex and futuristic digital rig at their disposal. Opener "Wheeling Rebus" illustrates the gradual transformation of their subtle reeds and horns' long, pulseless tones into a thick wall of processed noise, machine droneology and rambling sonic debris that brings forth fascination and menace all at once. Similar procedures constitute the highlights of the jazzier "Carbon Icon", where frantic mutantrupet soloing explodes joyfully into robotic scales and a solemn hymn-like sci-fi panoramic, propelling the listener from mid-sixties free jazz anti-stylings into an improbable future of post-apocalyptic datanoise, where human breath (ultimately the recording's undisputed unsung hero) conquers acoustic space with metallic patterns. The fierce, demonic blowing on "Dim Effigie" recalls such shamanistic icons of destructive, scary new jazz virtuosity as Peter Brötzmann: screaming lava, desperate coils of squalling, Escher-esque horns lock and send rippling, labyrinthine frequencies with almost Heavy Metal brutality. Free jazz's cerebral mathematic excesses, the microtonal intricacies liberated by British Improv (the futuristic sounds of legendary pioneering outfits like AMM and Musica Elettronica Viva certainly come to mind, at least in spirit), and the glossy digital feel of '80s and '90s King Crimson's adventures are among the album's main reference points found. "The Variability Of Stammering Arrows" and "Blue Air Habit", with a combined timing of 32 minutes, establish the album's central statement: finding a way through the exuberant counterpoints and deft sound manipulations will be an excruciating task but all the more rewarding. Just to think that these unsettling timbral dramas were executed/exorcized/conjured in only two days is disconcerting enough: you'd feel as if you'd been transported outside time, space and linearity. We may not know whether androids dream of electric sheep, but they will surely groove to The Choir Boys.
-- Marco Rivera, http://www.splendidezine.com/
Baignant individuellement dans des sphères musicales aux frontières insaisissables, le trompettiste Jeff Kaiser et le clarinettiste Andrew Pask décidèrent récemment d'affronter ensemble leurs hésitations stylistiques touchant au jazz, à la musique expérimentale bruitiste, et aux postures improvisées.
Débarrassés des complexes, on oppose aux évolutions des instruments à vent l'intervention de programmations électroniques, sobres ou à saturations. Moins de musique que de laboratoire, les instruments testent la résistance de leurs propres matériaux, jugeant de l'épaisseur des souffles (Wheeling Rebus) ou de la réaction des tubes (Dim Effigies).
Plus loin, Kaiser va chercher à connaître les intentions d'un Pask jonglant avec des saxophones ténor et soprano, une clarinette et une clarinette basse. Les phrases se croisent, se heurtent ou s'entendent, toujours portées par les flux. De fines expériences de traitements sonores (Blue Air Habit) laissent leur place à des duels efficaces à devenir instants de grâce (Tumbling Abstention). Là, on élabore des discours pseudo mélodiques, en n'oubliant pas de s'éloigner encore, s'il est possible, du commun ressassé.
Si les décision électroniques - loin d'être inédites et parfois même ronflantes (The Variability Of Stammering Arrows) - peuvent altérer les propos de Jeff Kaiser et Andrew Pask, ils s'en sortent sans véritable peine grâce à un savoir-faire indéniable gonflé de fougue dévastatrice. Au final, The Choir Boys est un alliage précieux et un album envoûtant.
Grisli, http://www.infratunes.com/
Sound sojourners Jeff Kaiser and Andrew Pask create unique sonic landscape on The Choir Boys, utilizing both the instrumental expertise for which each is known, as well as tapping their broader ambitions with live processing. The music ranges from ambient electronic, to industrial Stockhausen, with plenty of hard blowing along the way.
Pask begins with his bass penny whistle, processed while he plays. The swirling and smearing goes from a panpipes sound to impending storm. With the whistle put aside, low rumbling machines dominate. Clarinet rises from the electric shower, and participates as one sound among many. "Dim Effigies" begins with a sound like dental work gone terribly wrong. An elaboration on Japanese noise music, a startling metallic drone creates the backdrop for Pask's blistering alto improv. After a solo muse, rich oily electronic sound wavers slightly, with Pask's calming bleep which becomes looped and distorted.
Vocal clarinet opens "Carbon Icon," with Kaiser's muted trumpet giving rapid chase. Small electronic flashes mar the monolithic drone. Pask again weaves clarinet through the burbling background. Kaiser, processed almost beyond recognition, sets "The Variability of Stammering Arrows" in motion. His muted tones circulate through the speakers with distorted echoes. Pask's clarinet then feeds the altering software more tones. Kaiser puts his horn through its paces with loops and distortions coming back at him. Kaiser, with Pask on soprano, play out.
On "Blue Air Habit" Pask's tenor plays off instant reworkings of his own phrases, triggering otherworldly responses. Interdimensional drones with altered sax ruminations end it. A slightly modified duo, "Tumbling Abstention" takes Kaiser on some lip shredding passages that bounce back. "Reliquaries" features an uncluttered improvised duet with clarinet and trumpet.
After releasing the large and complex Alchemical Mass, Kaiser demonstrates in his collaboration with Pask his ability to swing from stars in a duet setting as well.
Rex Butters, http://www.allaboutjazz.com/
The Choir Boys (pfMentum 024) Featuring Jeff Kaiser on quarter-tone trumpet, flugel & live processing, Andrew Pask on clarinets, soprano, alto & tenor saxes and more processing. Jeff has a fine double quartet disc out on Nine Winds and now runs his own pfMentum Label. This spacious duo offering was recorded live in the studio with no overdubs, although both horn players do quite a bit of processing. Wind sounds are mutated and echoed beyond normal recognition. Mysterious, alien, floating, sonic manipulations slowly weave through the fog and are panned and moving through the stereo spectrum in waves. Sounding like distant whales or birds, slowly turning into electronic shadows and breath-filled spirits. On "Dim Effegies" both horns erupt into a thick layer of angry tones, noise triggered trumpet and squealing sax and even more noise surrounding. Cautious muted trumpet and somber bass clarinet inhabit "Carbon Icon", until the quietly bizarre electronics sounds come in and the cosmic drones take over, reminding me of that early space/rock/psych FM staple "Space Hymn" by Lothar & The Hand People. It is often difficult to tell who is playing what, since there is often more processed than regular horn sounds, yet it remains fascinating throughout. This is closer to space/rock/prog electronics than to anything else, so for those who can still appreciate the better moments of space music, this is definitely for you.
- BLG, Downtown Music Gallery
On this project Kaiser uses trumpet, quarter-tone trumpet, and flugelhorn along with live processing as his tools. Collaborating with Mr. Pask who plays clarinet, bass clarinet, and soprano, alto, and tenor saxes with bass penny whistle, they turn out a strange experimental brew of music that has a mystic feel. The 'choir boys" don't sing vocally but they do let their instruments have free reign to make a [sometimes] joyful noise.
This album has some of the longest tracks I've heard in recent memory. There's three tunes that run almost for ten minutes each--one is over 15 minutes, and the longest runs for 17:31! That cut, "Blue Air Habit" offers some creative sounds, tones, and musical notes. Sometimes the sounds are pulled...maybe stretched out, from the instruments--drawing every last drop from each note. The mix of natural sounds and the [electronic] processing (at times) compliments the overall feel but sometimes I found it to be a bit too 'clashing.' It's a marathon of a work and you have to make the time to listen to this one.
The music on the album ranges from sublime to explosive, as in cut 2 "Dim Effigies." Is it a scene from PEANUTS-Charlie Brown or is it a musical sword-fight? The musical wails, riffs, bursts, and tones along with some electronic beds and such display some amazing 'horn' work. This is one of those 9 minute numbers and it is something to hear. "Carbon Icon" is a short six-and-half minutes and the sense is much less frenzied and more subtle. Almost a break as compared to the previous track.
One magical effort is "The Variability of Stammering Arrows." It starts off slow but builds to what is a vast vista for the ears and of the mind. Clearly it has many 'sounds' mostly nuanced and clever. The thing is that it takes time to really get into the gist of the song. Some may like the 'electronics,' others might prefer to do without them. In my opinion, the sense is of a DR. WHO episode--at least that was what came to mind. Possibly even bits of some Star Wars-sounding clips.
" Tumbling Abstention" (5:47) was clear experimentalism yet it featured some fine playing. At times the sounds tend towards the abstract but still they are clever and creative--even mischievous. This project closes with "Reliquaries" which captures the theme of choirs, old 'saints' and statues, and the sense of mystery. Early on, one sound feels like a Tibetan chant; other sounds continue some serious as well as playful tones. Maybe in places the structure is disjointed but that is part of the avant garde nature of these approaches.
An interesting CD for fans of creative instrumental sounds.
Copyright 2005 - The Critical Review Eyeear7@Hotmail.com
Jeff Kaiser and Andrew Pask play a range of wind instruments on The Choir Boys (CD024) including trumpet, flugelhorn, clarinets, saxophones and whistle, recorded live in the studio with no overdubs. What makes this different to other improv-winds, however, is that both also participate in live processing. Reminiscent a little of Frippertronics, this allows them to echo, loop, stretch, process through various filters on the go to create a much more varied and dynamic effect. There are times when long low rumbling drones accompany them, or backwards sounds, computer burbling and slippery vinyl-like scratching, or loud industrial noise walls of sounds. The effects are used variably across the album - less in the final elegiac Reliquaries with lovely long tones, or as an assault of noise in Dim effigies. Looped percussives in Blue air habit over an ambient/industrial base of tones, or the mysterious ambiences of Wheeling rebus. Anyway, throughout the processing adds a fascinating dimension, taking this into an exciting electronic improv area. Perhaps over-processed at times - you can sometimes lose the skilful and intricate playing that forms the basis of their works, but that's a different album. The analogue sounds haven't disappeared, merely been augmented. A very nice one.
jeremy, ampersand
Auf den ersten Blick könnte man The Choir Boys (pfMENTUM 024) für ein Bläserduo halten, eine Begegnung des Trompeten- & Vierteltontrompetenklangs von JEFF KAISER mit den Sounds der Klarinette & Bassklarinette, der Soprano-, Alto- & Tenorsaxophons von ANDREW PASK. Der Clue verbirgt sich jedoch im Stichwort Live Processing. Statt Improinteraktionen in akribisch angenuckelten akustischen Klangfarben, rauscht ein Pfingststurm überirdischer und begeisterter Elektronenwolken aus den Boxen. Die beiden Chorknaben stoßen erst nur mit der Coverikonographie die Imagination in christliche Gefilde. Die einzelnen Titel abstrahieren dann schon von solchen Assoziationen: 'Wheeling Rebus', 'Dim Effigies', 'The Variability of Stammering Arrows', 'Tumbling Abstention'. Aber dann auch wieder 'Reliquaries' und sind das nicht doch alles mystische Termini? Abgesehen davon, dass ich mit The Choir Boys einen, von Robert Aldrich verfilmten, hard-boiled Polizeikrimi von Joseph Wambaugh verbinde, scheint mir hier der Versuch eines Detournements vorzuliegen. Der mystischen Union des von Pfeilen durchbohrten, entflammten Herzens mit den Spirits from above wird ein musikinduziertes Äquivalent unterschoben. Kaiser hat nicht umsonst mit seinem Ockodektet bei der Uraufführung der Alchemical Mass ministriert. Andrew Pask, der aus Neuseeland stammt, hat neben seinem Klarinettenstudium tatsächlich in einem Chor für Frühe Musik gesungen, bevor er gut sechs Jahre in Hong Kong als Jazzsaxophonist verbrachte und anschließend nach L.A. übersiedelte. Ohne den suggestiven Überbau taucht man in die etwa von Evan Parker mit Lawrence Casserly und Joel Ryan inszenierte musikalische Alchemie, in die rauschenden Klanglandschaften dröhnender und brodelnder Anderwelten. Wenn eine oder beide der abenteuersuchenden Instrumentalstimmen unverfremdet, ohne elektronischen Raumanzug in diese Zonen eintauchen, dann gelingt das nur, weil sie sich diesen Zonen anverwandeln und sich durchlässig machen für Klänge, die andere Quellen haben als Zungen, Holz und Metall. Vielleicht ist es dann dieses anthropofugale Moment, das den puren Trompeten- & Klarinettenclash von 'Reliquaries' so erhaben wirken lässt. Ein Meisterwerk elektro-akustischer Osmose.
[At first sight one could regard The Choir Boys (pfMENTUM 024) as a Blaeserduo, a meeting of the trumpet & quarterly clay/tone trumpet sound of JEFF EMPEROR with the sounds of the clarinet & bass clarinet, the Soprano -, Alto & tenor saxophone of ANDREW PASK. The Clue hides itself however in the keyword Live processing. Instead of Improinteraktionen in with the utmost care angenuckelten acoustic tone qualities, a Pfingststurm of celestial and inspired electron clouds from the boxes rushes. The two choir boys push only only with the Coverikonographie the imagination into Christian Gefilde. The individual titles abstract then already from such associations: ' Wheeling Rebus ', ' Dim Effigies ', ' The Variability OF master ring Arrows ', ' Tumbling renunciation '. But then also again ' Reliquaries ' and are that not nevertheless all mystische terms? Refrained of it that I with The Choir Boys, from Robert Aldrich filmed one, hard boiled police crime film from Joseph Wambaugh connects, seems for me the attempt of a Detournements to be present here. The mystischen union, of the inflamed heart with the Spirits, perforated by arrows, from above becomes an music-induced equivalent put underneath. Emperor did not ministriert in vain with his Ockodektet during the premiere of the Alchemical measure. Andrew Pask, which originates from New Zealand, sang actual apart from his clarinet study in a choir for early music, before he spent well six years in Hong Kong as jazz saxophonist and afterwards to L.A. moved. Without the suggestiven cover dips one into for instance from Evan the Parker with Lawrence Casserly and Joel Ryan produced musical Alchemie, into the rushing sound landscapes of roaring and bubbling other worlds. If or both of the adventure-looking for instrument valley voices unverfremdet, without electronic space suit into these zones dive, then succeeds only, because they make themselves permeable these zones anverwandeln and for sounds, which have other sources than tongues, wood and metal. Perhaps it is then this anthropofugale moment, which lets the pure trumpet & Klarinettenclash of ' Reliquaries ' work so raised. A masterpiece of electroacoustic osmose.]
Rigo Ditmann, Bad Alchemy 46
Jeff Kaiser and Andrew Pask perform in this album a series of compositions between Jazz, New Music and experimentation, with some electronic textures that give way to some imaginative samples of Dark Ambient. There are some passages entirely devoted to experimentation with sounds. In this work, the wind instruments have a remarkable role, and it is perhaps here where Kaiser & Pask's skills are most outstanding.
DOMINIQUE CHEVANT, http://www.amazings.com/reviews2005.html
Kaiser takes to trumpet and flugelhorn, and Pask plays winds (clarinets, saxophones and a whistle). They combine in that world where I most often find Kaiser: The one he creates in my mind. These breathy improvisations would be great for a Halloween party (well, except for the ones processed to the hilt), and they're stellar for wandering off in search of your next great idea.
Jon Worley, http://cent.com/abetting/262reviews.html
top - bios - events - mp3s - discs - reviews
The Choir Boys at the Red Rose, London, England
August 18, 2005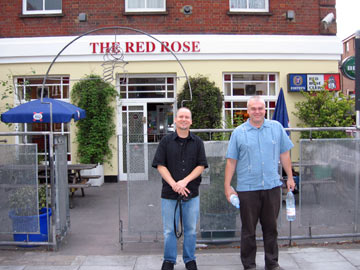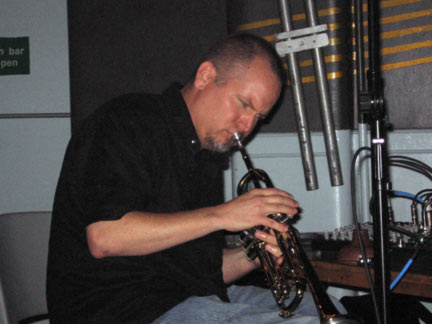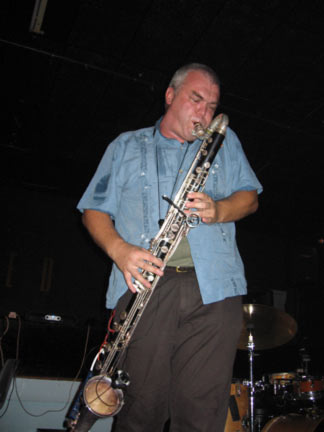 CLICK HERE to watch the video classic!
Andrew Pask walking in London with an umbrella!
BELOW: The Choirs Boys play a multibuilding concert in Ventura...
CLICK HERE TO READ ABOUT IT on Jeff's Blog...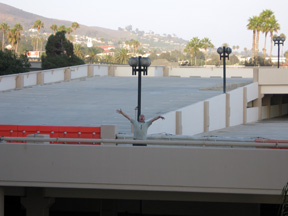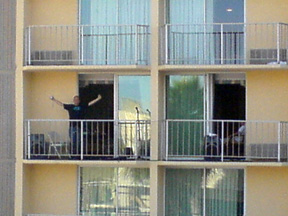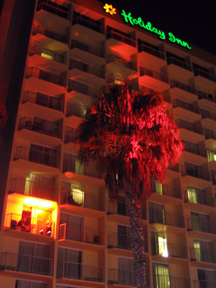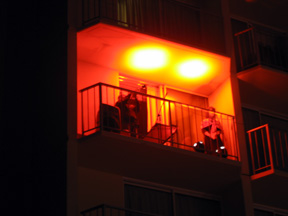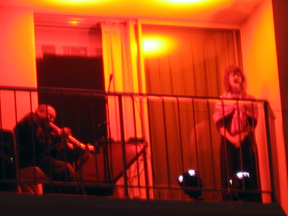 Playing at Club Tropical with
Steve Lawson and Steuart Liebig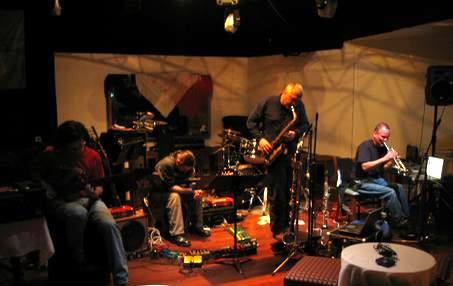 (photo by Gregory Taylor: http://www.rtqe.net/ )
Ceremonial toast, performance of Tusalava at Sparks Festival 2007