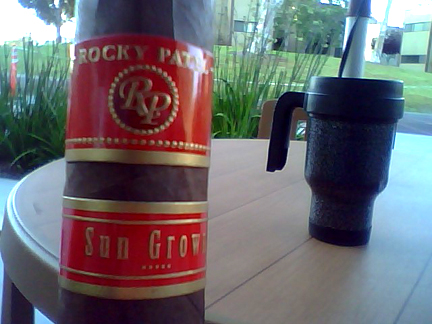 (Makes my mug look small.)
Smoked last Thursday…The Rocky Patel Sun Grown Torpedo is a phenomenal cigar.
I've changed y mind about having a whisky or port while smoking cigars, now I go for tea…while smoking this I had a lovely organic Pai Mu Tan from my favorite folks at Strand Tea.
The RP Torpedo started out delicious, and remained consistent in its flavor throughout the smoke. A different, earthy taste of toasted grains and nuts were there from the beginning. I didn't get the spiciness other smokers have enjoyed with this cigar, but maybe it was because I had the incredibly spicy vegan chowmein from Sipz before enjoying the Rocky Patel.
This cigar was fantastic, will become one of the mainstays of my humidor.
On Friday's menu: Oliva Serie V Torpedo, from the McMullen Gift Pack.