In the afternoon of my second day here, we went to Alexanderplatz and surrounding areas (see previous post)…here is some of the stuff I didn't get to…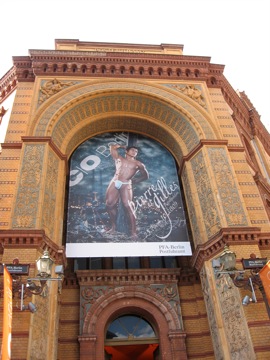 Art exhibit at former post office.
(Click on any image to enlarge.)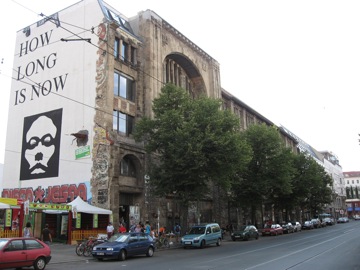 Tacheles
Tacheles
is a really interesting place…at the buildings threatened destruction, artists occupied it, took over it, anyway, it is a long story, read the link…funny, in spite of its anarchist like roots, it has a very commercial feel to it!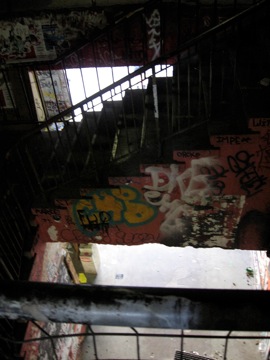 Stairwell in Tacheles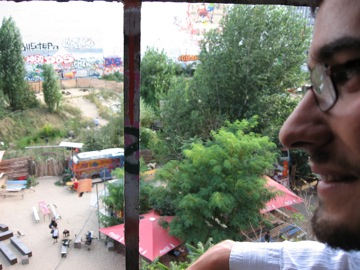 Phil on the fourth floor, looking out on Tacheles courtyard.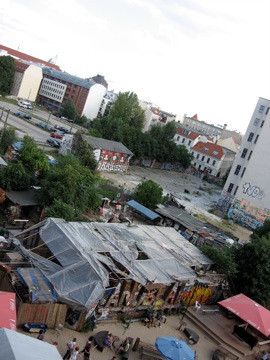 Fourth floor, looking out on Tacheles courtyard.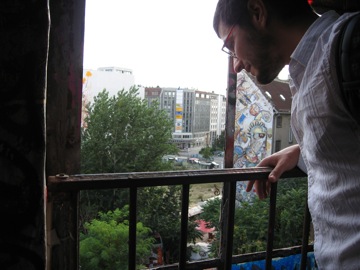 Phil on the fourth floor, looking out on Tacheles courtyard.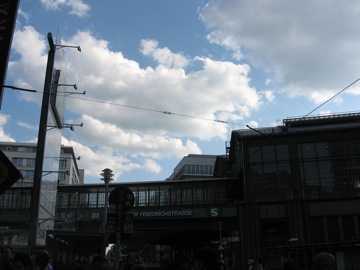 Beautiful sky over Friedrichstraße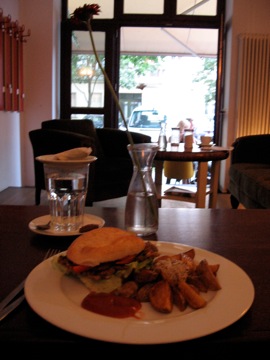 Burger at Hans Wurst Vegan Cafe
After a bit of sudying (why I am here!) and running around, I had a burger at a bio cafe, Hans Wurst Vegan Cafe, Phil and I went to Ausland to hear some music, a popular venue for experimental music. You go into this courtyard (former building foundation?), and take a flight of stairs down to this basement. Phil's story is that it is all that remains from a bombed out building. I was unable to confirm this…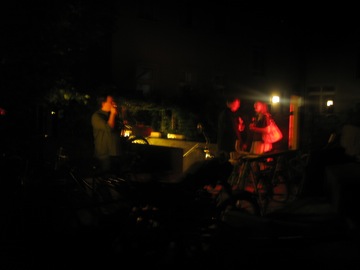 Ausland Entrance

I loved this deer horn candelabra at Ausland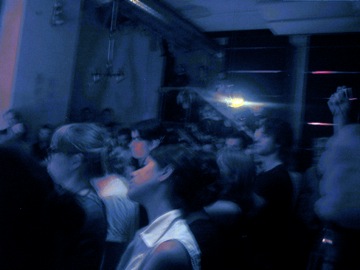 The crowd at Ausland. Every gig I've been to has large audiences…!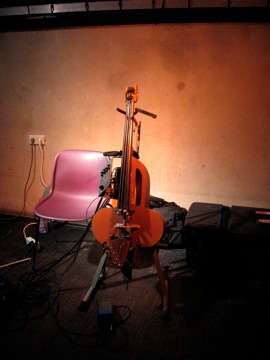 Artisinal instrument with electronics, at Ausland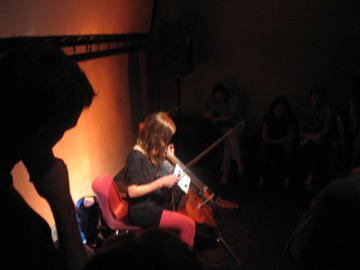 Performance at Ausland

Derek Holzer's (spelling?) photo-electric instrument, at Ausland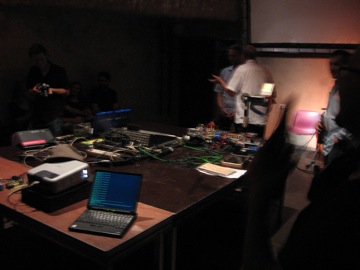 Table of electronics, Ausland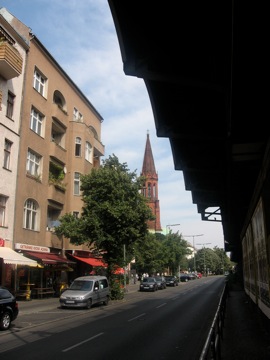 The next day, more studying, but then went for a walk on Skalitzer Straße, I love stepping out of a train station and seeing the historical architecture jutting out over the apartments and stores.

Oberbaum Brücke, on a walk to Friedrichshain.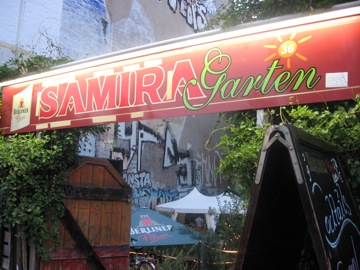 Great cafe on Oranienstraße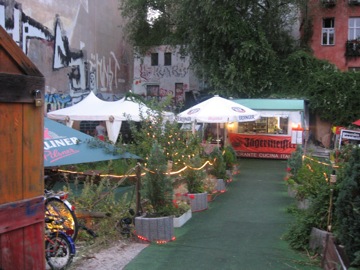 Drop into the courtyard, looks like a strange cross between a yard sale, pub, miniature golf course and Club Med.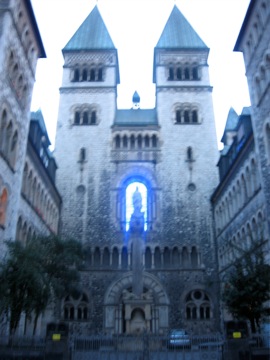 Church of the Blue Neon Christ. (I don't know its real name…)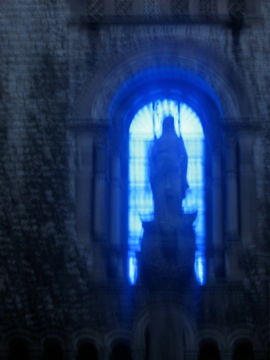 Closeup of the Church of the Blue Neon Christ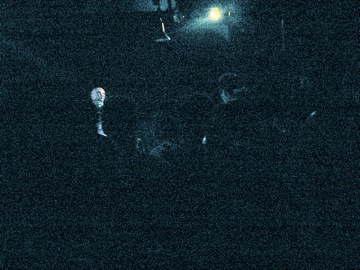 That night, at Madame Claude's basement. In this crowded unlit basement, we saw Ignaz Schick and Mat Pogo performer a mind numbing, AWESOME set to an (uncomfortably) packed crowd in a hot sweaty basement of a nice pub. The pub, Madame Claude's, is great, furniture nailed to the ceiling, good beer…a lot of fun.
Gigs coming up as well…more on that, by will be playing with Roy Carroll, Phil and more…