(To enlarge any photo, just click it)
I'm writing to you from the snow covered house of my parents overlooking the beautiful Cottage Grove Lake in central Oregon. It is awesome here! After picking me up, my parents took me to the Wandering Goat for, as I've said before, the best espresso I've ever had. Now I'm just kicking back here recovering from the 28 units I took last quarter…
Last weekend, David Borgo and I (KaiBorg) played at the International Society for Improvised Music (ISIM) 2008 Conference held this year at University of Denver, Colorado Lamont School of Music. The facilities, and the hosts, were wonderful. The performance facilities are a few years old and in fantastic upkeep with nice sound equipment. Another big congratulations to Ed Sarath and ISIM executive director Sarah Weaver for a great conference.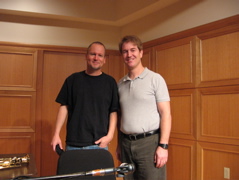 KaiBorg getting ready to play in Denver.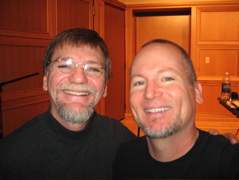 John Rapson, myself
The man who introduced me to the world of creative music, Professor John Rapson. In the early 80s he introduced me to a wide variety of musics while I was a student at Westmont, and also introduced me to my now friends and compatriots Vinny Golia, Wayne Peet, Alex Cline, Nels Cline, John Fumo and more. In conversation with my PhD committee chair (David Borgo) Rapson said he "started me on the descent," and Borgo said with a smile, "Yes, and I'll finish it…"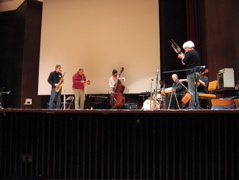 Bottesini: Paul Riola, Michael Vlatkovich, Doug Anderson, Antwon Owens, Glenn Taylor, James Hoskins, Vinny Golia
Paul and Michael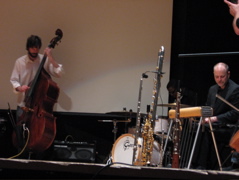 Doug, Antwon, Glenn
Doug, Antwon, Glenn, James, Vinny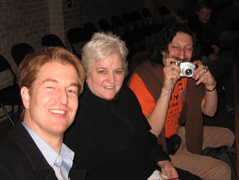 Susie and I snuck in whisky…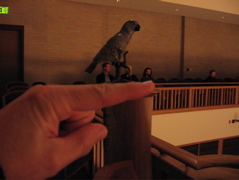 ?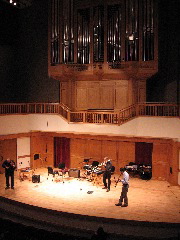 I can't remember the name of this trio, but they were quite excellent.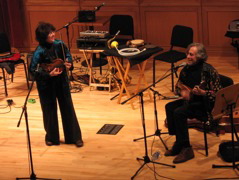 LaDonna Smith and Misha Feigin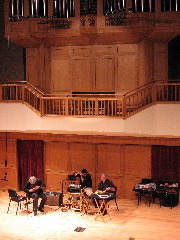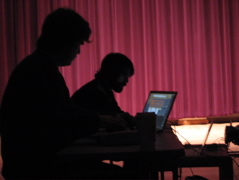 Clay Chaplin, Lewis Keller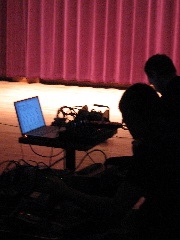 and two other members of TAG put on an AWESOME performance.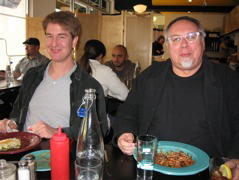 Brunch with Borgo and Vlatkovich at
Watercourse
, the most wonderful Denver vegetarian restaurant.
I had the pan friend seitan with mashed potatoes, gravy and mixed vegetables! Wonderful stuff…