I've just returned from gigs with KaiBorg, (David Borgo and myself) in Sweden and The Netherlands. David put together a fantastic tour, and with the help of the UCSD music department, I was able to go. We had a great time, met some wonderful people and played some real enjoyable concerts, our first public appearances with our horns and Max/MSP rigs featuring the KaiBorg Module, a shared datastream that synchronizes control of our rigs.
I showed up a few days early to visit the town and get in a little vacation time. Here is my first picture after landing in Göteborg, Sweden: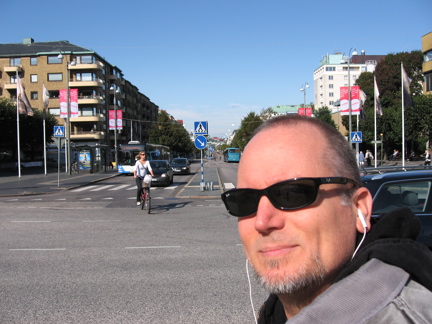 My friend Phil Skaller gave me some grief about it, he said, "It could be anywhere! Madison, Wisconsin, or anywhere!" Kind of true…BUT its Sweden! And I must tell you, I love it there! Would it be better if I started with a pic of my vegan meal on KLM…? Probably not….vegetables, couscous and a very delicious vegan cookie. (Just a reminder, always order the vegetarian plate when flying…it's unnatural to eat fish at 30,000 feet in the air.)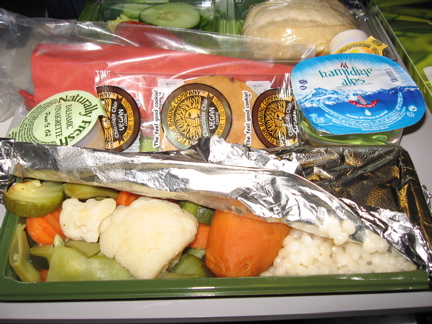 First day there, found this lovely cafe on Vasagatan, drinking espresso (they laughed at me when I ordered decaf, it is almost impossible to find decaf in Göteborg…I never did) reading Lakoff and listening to The Monkees, The Turtles and The Zombies. Don't ask why I was listening to them, for some odd reason they really helped my jet-lag. BTW, I did see mention of a study that said Viagra will help jet-lag (look under "Remedies"), but I'll stick with espresso and The Zombies.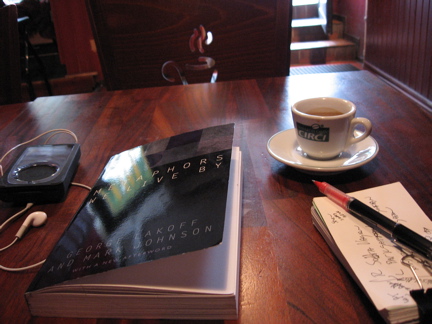 Here is the hotel the University of Göteborg put us up at:
Hotel Lorensberg. It was quite lovely, I'd stay there again.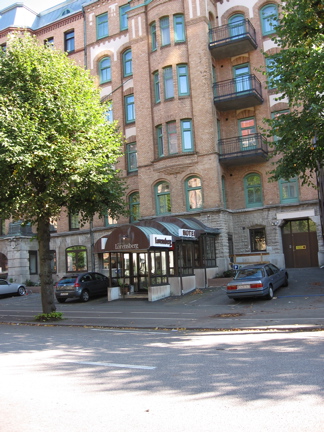 My first night there, I met up with Jonny Wartel, our host for the BrötzNow gig. What a great guy! We had a blast, many meals/beer together, he is not only a very powerful/creative player, but a real nice guy. We met that night for dinner at Göteborg's legendary veggie haven, Solrosen, a place that I was to visit regularly. Then we went on to Nefertiti, which was to also be a regular hang for me. That night, saxophonist Thomas Jäderlund was playing with a guitar trio called "I am the arm." Thomas was SMOKING, really on fire, a dynamic and energetic player with boundless creative ideas. After I met him, it turned out Thomas (along with Per Anders Nilsson) was one of our hosts at the University, for David's lecture and the workshop! Anyway, a beautiful three day vacation before David showed up and we had to get to work.
Borgo's energy was amazing: He showed up, after 12 plus hours of travel time one hour before his lecture, and then delivered a lecture that was totally engaging for three hours. And THEN still had the energy to go out, get dinner at Solrosen and hit Nefertiti with me. That night, there was a band called "Cortex" from Norway that opened, playing nice tunes that were reminiscent of Ayler at times and Ornette at other times. After they left the stage, it went into what was looking like it was going to be a mediocre open jam session. Then, when the band was treading water with "Autumn Leaves," Jonny got up with his tenor and things really blew wide open, "Autumn Leaves" never sounded so good. Then Jonny brought up his friends (David on piano, can't remember his last name, and then somebody else on bass) and things went uphill from there. Wonderful night.
The next day, Wednesday, we hit it running, we co-taught a workshop at the University with around 35 undergrad improvisors. They were dynamite! First, we performed a short concert of our KaiBorg stuff, and then David used improvising "strategies" with them for the first half, and then the second half we used my graphic score, 13 Themes for A Triskaidekaphobic. They dove in and sounded wonderful. How great is that? A big university that undergrads can major in improvised music. Wonderful. That night, after a great dinner at Andrum with Per Anders (who, by the way, will be touring soon here in SoCal), we went off to our gig at BrötzNow.
BrötzNow was AWESOME! A collectively run space in an old hospital (school?) there was between 80-100 people crammed into the club. What a wonderful reception, one of the first times I remember getting called for an encore with electro-acoustic improv! After us was a piano trio, but then the fireworks began with Jonny's group of musicians and actors. They kept everyone mesmerized for their set with the combination of subtle to wild improvisation and actors/movement people, with video projection. Jonny and his wife Michelle (sp?) are two of my favorite performers now, really wonderful stuff.
After saying goodnight to our hosts, we went across the street to an excellent local pub, The Stage Door. Great selection of whisky, and, in spite of the fact that they sell by the centiliter (!) fairly reasonably priced. After getting to know the bartender and some of the regulars, it became a nice hang for a nightcap throughout my week there. Our last night in Göteborg, I ordered the infamous akvavit (aquavit), a Scandinavian distilled beverage that supposedly is imbibed rarely, usually special occasions. Our last night in Sweden seemed like a good reason. David wouldn't have any…at first. I had a shot of Saint Something-or-other. While the locals were shouting, "Don't do it!" But really, it wasn't bad. So David had a shot of the higher quality, but he did it traditional style. They bring out a bit of raw herring covered with sour cream (I'm not kidding) and he slurped it down and followed it with a shot of akvavit. A truly brave man. I would've done it, but as a vegan, I requested a faux version (preferably soy) of raw herring, which doesn't seem to have made it there yet.
But then the bartender brought us a bottle of something that we turned down. From WAY up north they have a distilled beverage called "Bvr Hjt." (Prounounced "BAYver hoit.") Strong distilled beverage in which, according to our bartender, they soak dried beaver testicles. We had to draw the line somewhere, beaver testicles seemed like a good place. It also produced one of my favorite quotes from David, "I refuse to drink any alcohol that does not have a vowel in its name." On further research, as opposed to our informed bartender, Bvr Hjt does not contain dried testicles, but Beaver Castoreum, castor sacs (scent sacs) located next to the anal glands. Who thinks of this stuff??? It sounds like a frat boy dare. Turns out, not only do people drink them, they use them in perfume as well. In spite of this, and their being used medicinally since 500 BC, now I'm *really* glad I didn't drink any.
Anyway, here are some pics:
Mandatory tourist shot with Poseidon and his fish.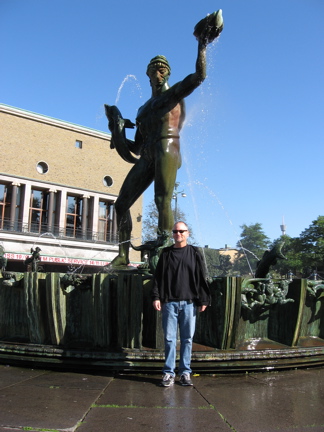 I think John Travolta learned his dancing moves from the founder of Göteborg…
Nice public art on non-violence.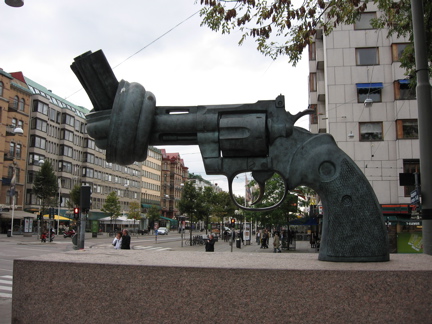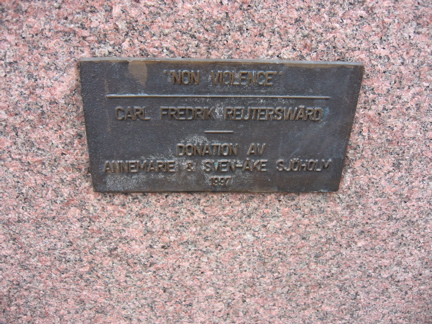 A protest! Many, many, people protesting the Swedish version of the Patriot Act, where the government invades private communication.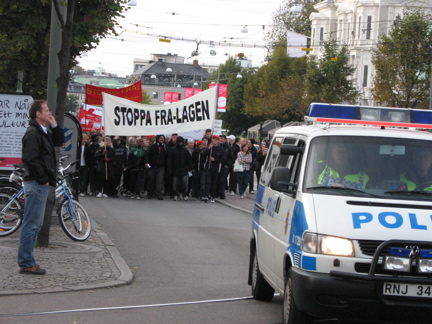 Cortex at Nefertiti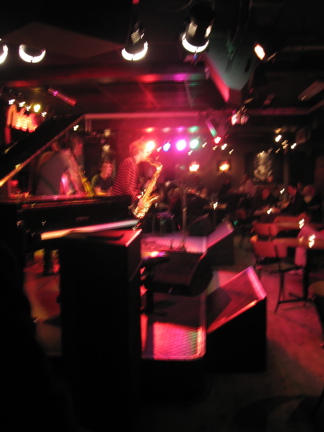 Jonny Wartel bringing down the house…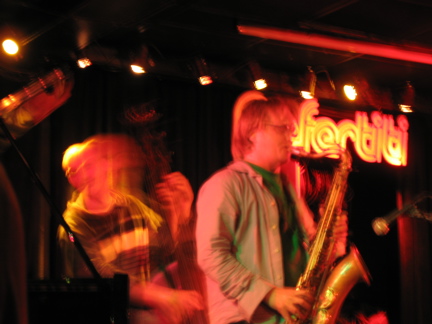 David at the piano…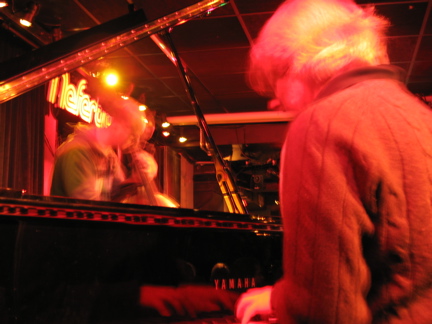 Borgo, not even lagged!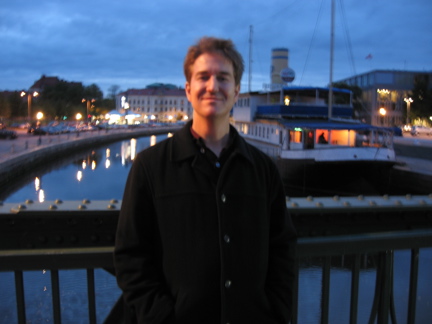 Plenty of energy to lecture for three hours…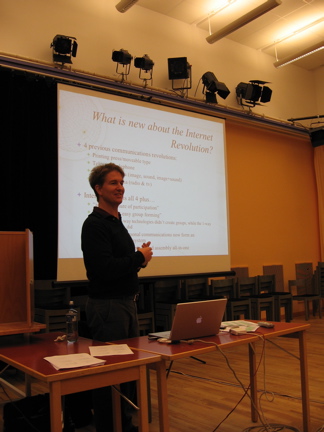 Right before the workshop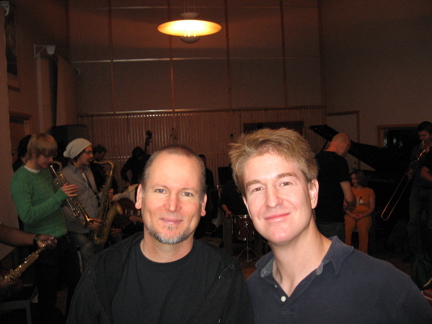 Borgo, Per Anders Nilsson and myself at Andrum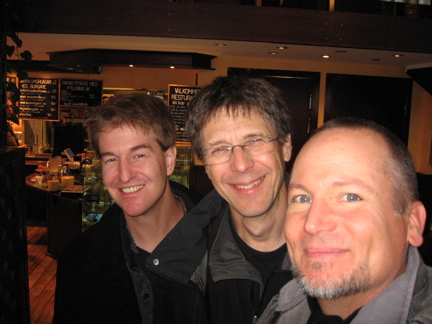 At the waterfront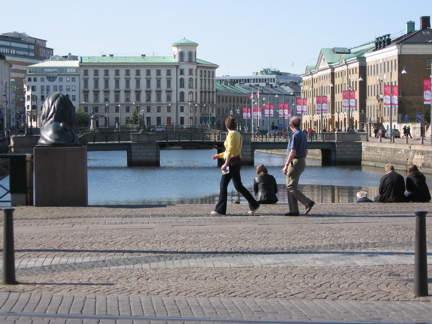 Vasagatan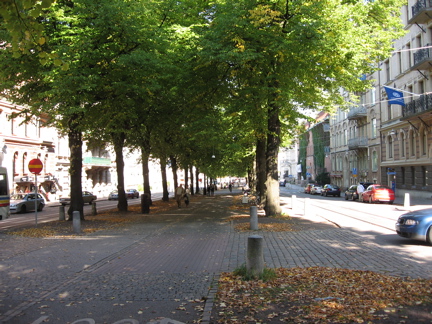 on the Avenue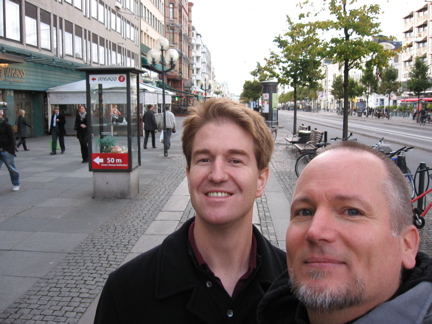 Packed house at BrötzNow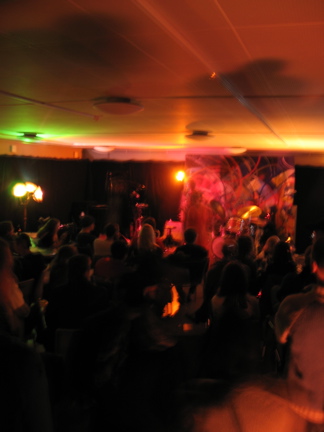 The KaiBorg setup at BrötzNow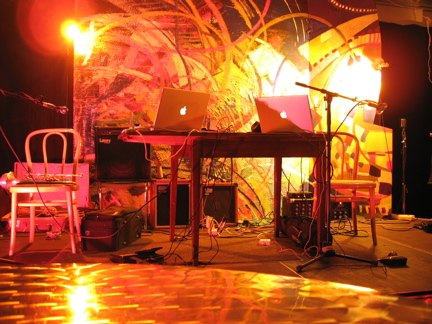 Thanks, Per Anders, for the pics!