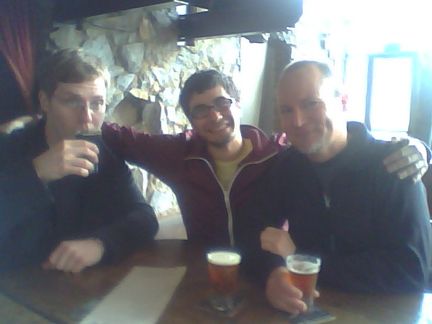 Peter Evans, Phil Skaller (fellow UCSD Grad Student), Jeff Kaiser: Stone Brewing Company
Trumpet player Peter Evans visited UCSD this week.
I had the pleasure to hang out with this true, multi-faceted virtuoso (who is comfortable in notated and improvisational environments) over the last two days. Turns out that we both not only love the trumpet, but beer as well! After making the pilgrimage that any beer lover wants to make when visiting here (Stone Brewing Company where we tasted different vintages of the Old Guardian Barley Wine, Russian Imperial Stout, and the Vertical Epic Ale-including the red wine casked version), we also took in the Abyss, Idiot IPA (double ipa) and Anderson Valley Oat Stout at the campus pub (Porter's Pub). Lots of time to talk about art, trumpet playing, and, erm, beer. Highlights of the last two days: Peter's duo concert with Anthony Burr, and the chance to play a 20 minute improvised trumpet duo with Peter in front of 70 undergrad students and trumpet legend Ed Harkins (one of my heroes). An exciting couple of days…
Video of the wonderful Ed Harkins and Phil Larson below….