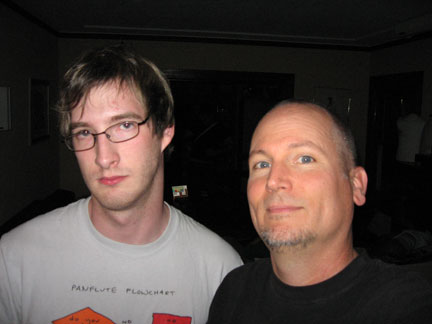 Barry and Jeff
I met Barry Threw at The Spark Festival in Minneapolis, MN last February. He is a very bright and creative musician with monstrous tech chops as well, what a nice combination. So I knew I would be in the area in July so he hooked up a gig for us. But first, I was the recipient of a private tour and showcase at one of the facilities he works at, Recombinant Media Labs. (Also HERE on Myspace.)
Recombinant Media Labs is located in a building owned by Asphodel Records in San Francisco at the base of the Bay Bridge. A KILLER facility, featuring in their words, "a flexible black box environment that houses a high definition multichannel audio-visual system known as Surround Traffic Control. This full fidelity array consists of a design specification for 10 screens in 360 degrees supported by an ultra impact 16.8.2 horizontal and vertical sound diffusion system." The facility is run by Naut Humon. The sound system includes two transducers in the floor that cause it to shake with the subs. Awesome. Barry showed me projects from biosphere, Christian Marclay and others. It was simply stunning. Physically, it is overwhelming…you are being totally immersed in the art work. It was truly thrilling. I know, the cynics out there are saying it is just a sound system and video, but believe me, it is much more.
After the visit at RML, we hopped on the Bay Bridge and went to Oakland to play. The concert was a blast. At a private house the owners refer to as, "The Palindrome," there were four performances. It was a varied and interesting night starting with Marielle Jakobsons playing electric violin with max/msp patches and footpedals. A set of clarity and beauty, electronic drones with modal melodies floating above.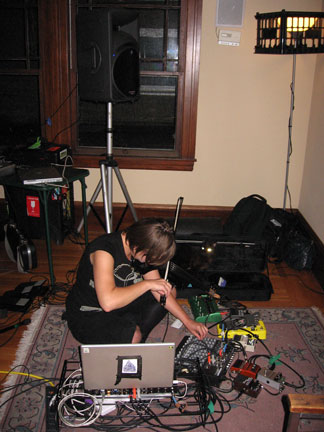 This was followed by Andrew Benson. Andrew played an instrument of his own design. In his words he wanted to "make an instrument that was impossible to look cool playing." It was awesome. Two joystick controllers attached to his stomach with lengthy dowels attached. Wrenching noise reminiscent of overdriven guitars. Wonderful music, great performance. He finally ended flopping and rolling around on the ground like a wounded punk rock guitar god pierced by arrows. It was immense amounts of fun and music.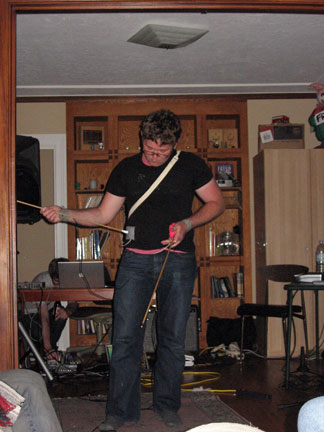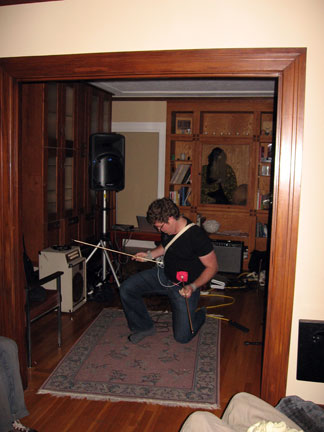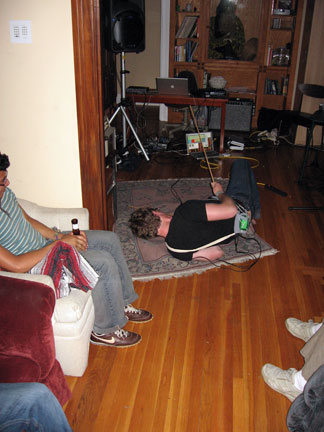 This was followed by Bolivar Zoar (Ava Mendoza, Theresa Wong, Mary Clare Brzytwa) who played an energetic set of songs and improvs that was engaging and fun. All very skilled players, busting out into three part vocals at a moments notice. Excellent stuff.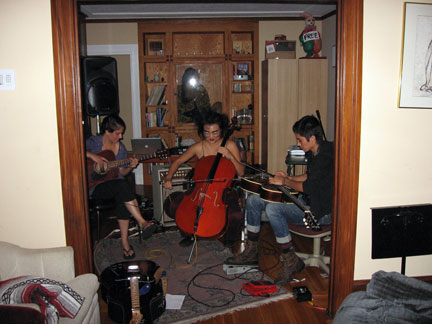 And then, to close the night, Barry and I played.
Oh yeah, Barry had a killer t-shirt on: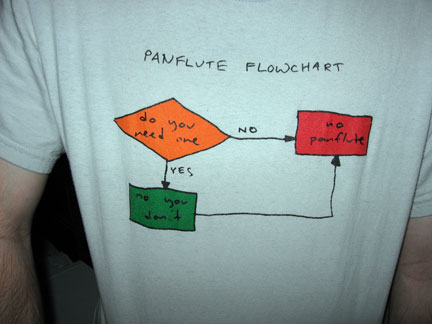 Thanks to Andrew Benson for the photos.