Currently I'm in Cottage Grove, Oregon trying to write some new music for my Ockodektet concert in November and working on some Max/MSP/Jitter projects. On the way out of town, I participated in a concert at Alex Cline and Will Salmon's wonderful Open Gate Theater at the Eagle Rock Center for the Arts. The first group was the (acoustic!) trio of myself, Michael Vlatkovich and Tom McNalley, second up was Andrew Pask's rocking quartet with Wayne Peet, Steuart Liebig and Alex Cline. That night I began my drive up to Oregon, accompanied by a thermos of pu-erh and three of my dear friends: Arturo Fuente Hemingway, Oliva Serie V and La Gloria Cubana. (I also had a San Lotano, awful.)Upon arriving, I received some good news: the score for my
Alchemical Mass
was accepted into an art show on experimental music notation at the
Royal Nonesuch Gallery
in Oakland, CA and I received the newest addition to my electro-acoustic rig: the
Softstep, from Keth McMillan Instruments
. More on both of these in posts to come.
After a few days here, I was treated to a lovely show at the Jazz Station in Eugene, featuring the duos of Jeff Young and Paul Pinto, and Lucio Menegon and Sabrina Siegel. Ted Killian then joined me here for a few days and while discussing Max/Msp and Jitter we feasted on many of the vegan offerings in Eugene at Morning Glory Cafe, Pizza Research Institute, the Cornbread Cafe, while remaining caffeinated by The Wandering Goat, and also attended a noise concert at the New Zone Art Gallery featuring many of my friends here in town….
Following are some pics, CLICK on any of them to see large versions.

Wayne Peet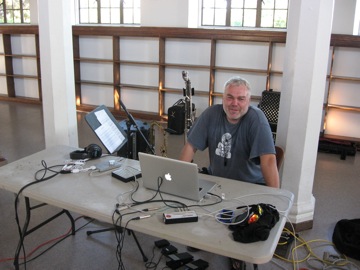 Andrew Pask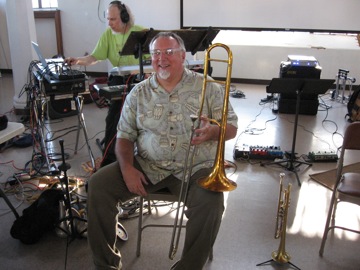 Michael Vlatkovich and Wayne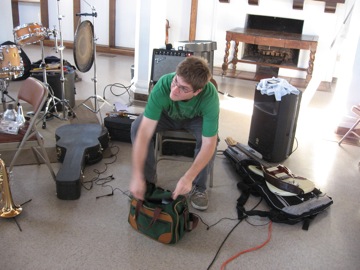 Tom McNalley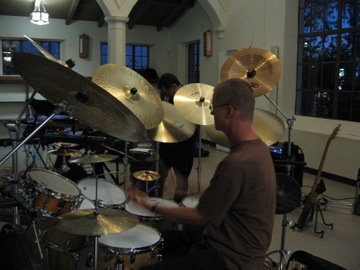 Alex Cline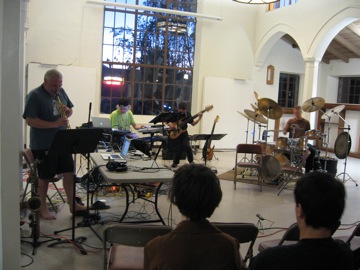 Andrew, Wayne, Steuart Liebib, Alex Cline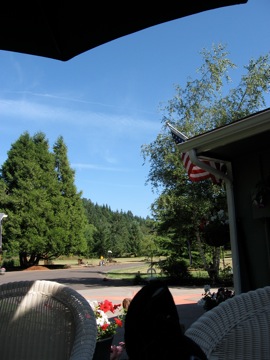 My favorite tea drinking spot.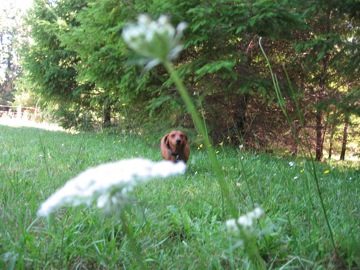 Wild animals abound…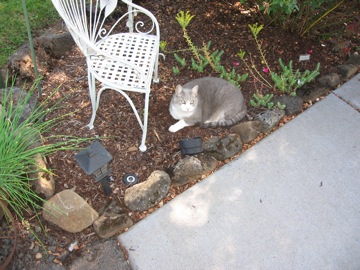 …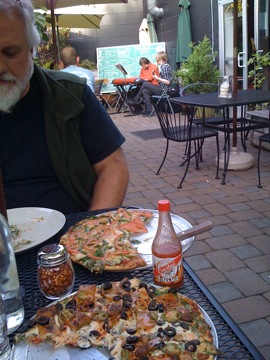 Ted Killian and I at the Pizza Research Institute before the show
Seriously amazing pizza.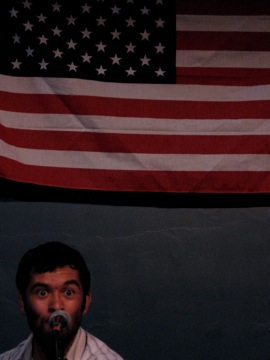 Paul Pinto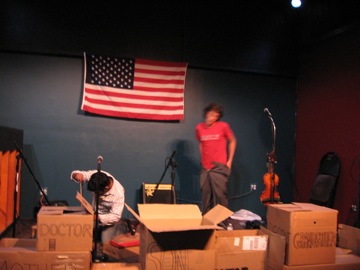 Paul and Jeff Young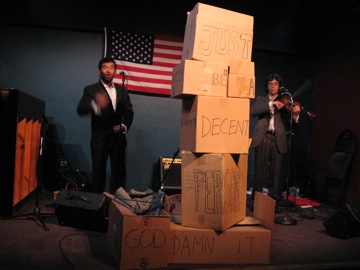 Paul and Jeff
Lucio Menegon and Sabrina Siegel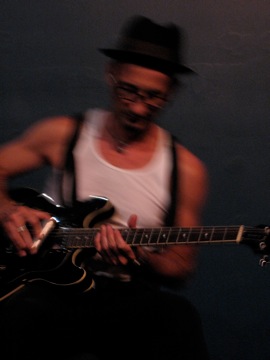 Lucio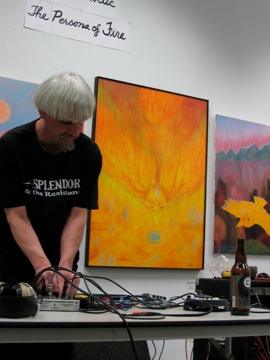 I Died (Chris Gierig)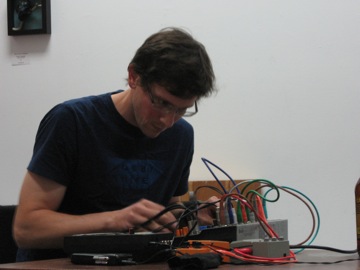 Che F. Kirk (Roger Smith)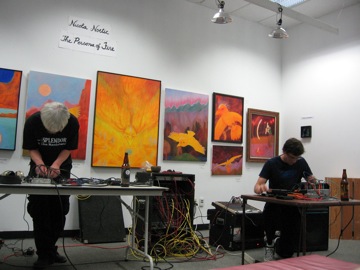 Chris and Roger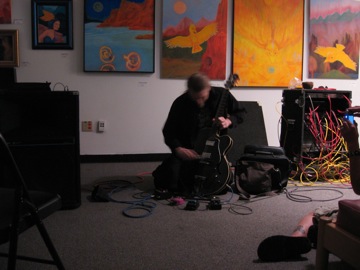 INRI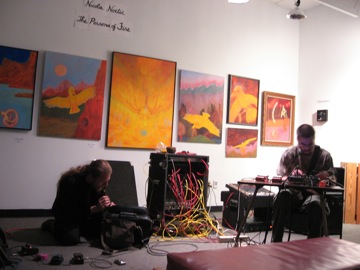 INRI and Radiant Thaw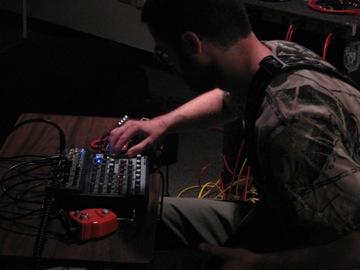 Radiant Thaw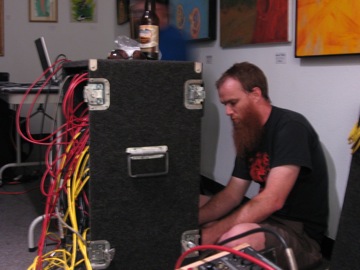 Curtis Rochambeau with John 7 in the background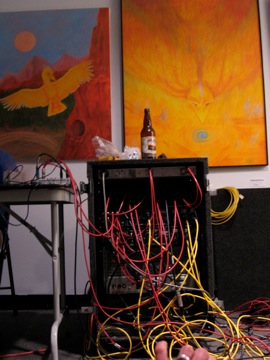 View of Curtis from the audience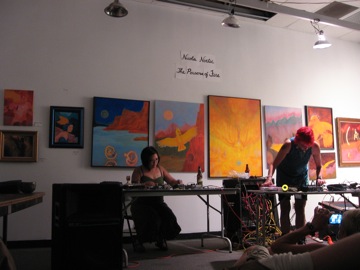 Marlo Eggplant and Hobby Knife (Marilyn Kent)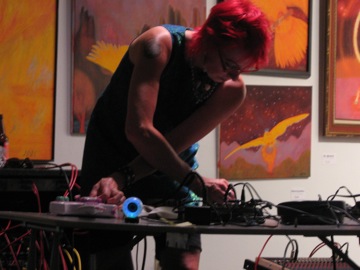 Hobby Knife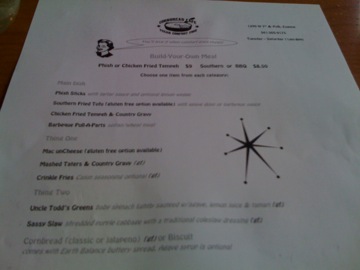 Cornbread Cafe, vegan "comfort food: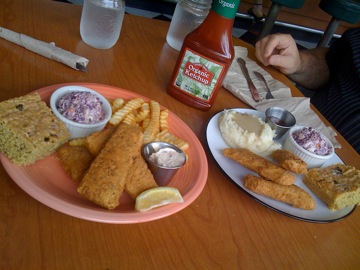 Cornbread Cafe