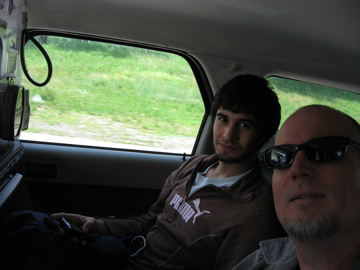 (Phil saying, "Kaiser! Get rid of the camera!")
What a wonderful weekend in New York. Phil Skaller and I went to perform a live soundtrack to Bill Brand's film, Angular Momentum, at the Vision Festival. I couldn't afford to stay long, but I wanted to see as many friends and hear as much music as possible. The schedule was quite full, but thanks to my dear friend Brad Henkel (who also generously let me crash at his Sunset Park apartment) a lot was accomplished.
Upon landing at 3pm, Phil and I took a cab to Brooklyn. Phil went off to see his family, I practiced trumpet for an hour…and then we started going. First, to this great restaurant (The V Spot) in Park Slope for a sesame/ginger seitan that was delicious. After that, we went and walked around Prospect Park (beautiful weather) and then went to Rob Price's house to taste some of his exquisite beer holdings. I met Rob at the Boise Festival a few years ago where we bonded over beer and his great set with percussionist David Grollman. Anyway, Rob treated us to a wonderful Danish brew, Mikkeller Black. Delicious, much better than its Beer Advocate rating. From there we went to the Tea Lounge to hear the trumpet play, Jacob Wick, and then moved on to hear David Grollman play with cellist Valerie Kuehne at a loft concert. David was fantastic, and spite of the distracting environment, played beautifully, working with a wide vocabulary that climaxed with his snare being played like a giant Daxophone…mesmerizing and beautiful. Brad and I then moved on to have a falafel and then on to Spuyten Duyvil, where I had a nice Imperial Pilsner (can't remember by who).
Saturday started at lunch with Brad Henkel and James Ilgenfritz at S'Nice in Park Slope, from there we went to Dave Grollman's place for tea, and then to Roulette to meet my friend Todd Reynolds. Todd was performing a piece by the wonderful composer Paula Matthusen. Todd is great performer, top-notch on all levels, I couldn't attend the gig that night, but we heard him run the piece several times, which was nice. Matthusen received a nice review HERE in the NY Times. From there, on to dinner with the great trumpet player and all-round musician Dave Ballou and Lorinda Ann Harnish Van Sciver Neumann, a writer friend I knew years ago in Ventura. What a blast! Three trumpet players and a writer made for interesting table talk. We then went to a concert to see Harris Eisenstat, but he and his wife Sara Schoenbeck had a baby that day, so, obviously, he wasn't there. Big congratulations to the new parents! Ended the with Brad at Barbes with a nice whisky.
Sunday was dedicated to getting ready for the gig with Bill Brand and Phil Skaller at the Vision Festival. Walking in, I was greeted by Bill doing repair work to make the projection screen functional. We then, with the help of the soundman, re-wired the amps and board to make the sound fully stereophonic, finally breaking my curse of only mono-systems when I play in NYC. We had a very nice set, attended by an attentive audience, many of whom stayed and spoke with us after, capping a really enjoyable time. The Abron's Art Center is, by the way, a FANTASTIC facility…beautifully designed, really nice…and the Vision Festival is an excellently run gig. I was able to catch a stellar set by Fred Anderson with Hamid Drake and William Parker, and a truly mind-blowing set by Peter Brötzmann, Michael Wertmüller (drums) and Marino Pliakas (bass guitar). Body crushing subs (double bass drums!) with Brötzmann all over the top…one of the best free blowing sets I have ever attended. All energized, we went out for falafel and ended up at DBA till late, enjoying their excellent beer and scotch selection.
Monday, I went out for a late breakfast at Angelica's Kitchen with Nathaniel Morgan, then the two of us joined Brad Henkel in Seaport at Jack's and hung out with Brad walking this great dachshund named Matilda. After that…caught the plane home. A busy few days…but what a great time.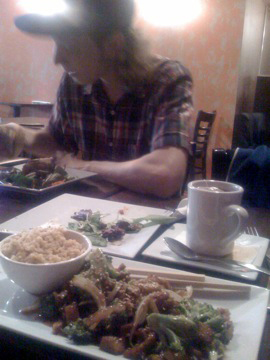 Brad at The V Spot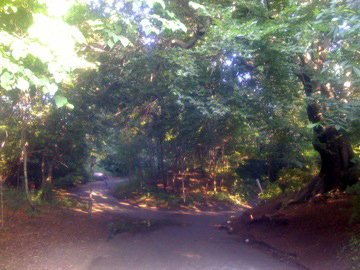 Prospect Park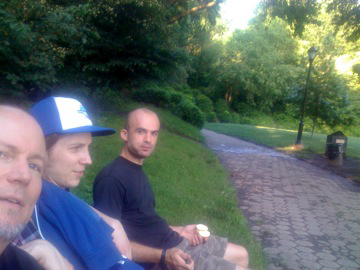 Me, Brad, Nathaniel at Prospect Park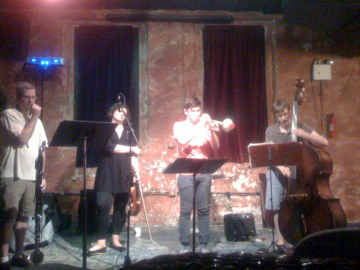 Jacob Wick, trumpet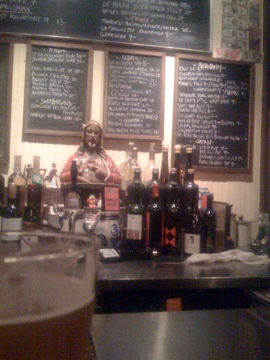 Spuyten Duyvil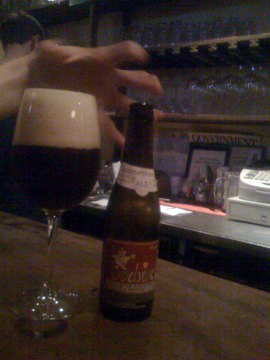 Spuyten Duyvil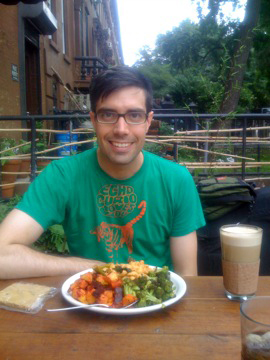 James Ilgenfritz at S'nice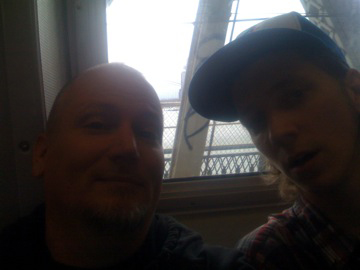 On the train to Manhattan…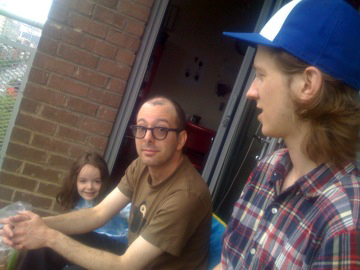 Tikki Tikki Tembo, David Grollman, Brad Henkel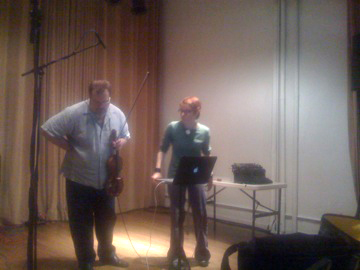 Todd Reynolds and Paula Matthusen in discussion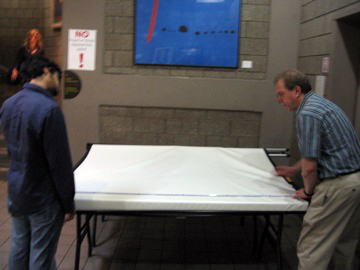 Phil and Bill repairing the screen at Abrons…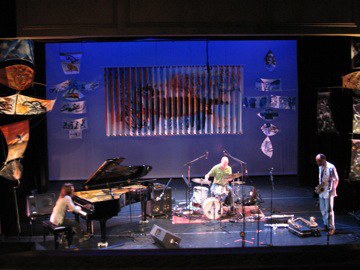 Daniel Carter at the Vision Festival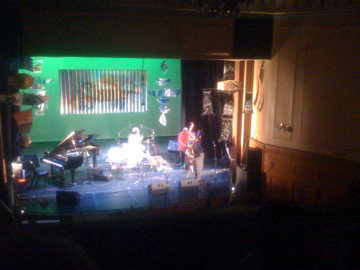 Hamid Drake, William Parker, Fred Anderson at the Vision Festival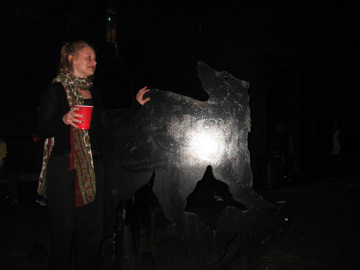 Lorinda Ann Harnish Van Sciver Neumann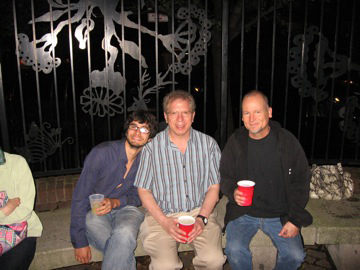 Phil, Bill, Jeff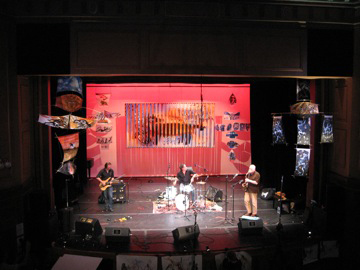 Peter Brötzmann, Michael Wertmüller (drums) and Marino Pliakas (bass guitar)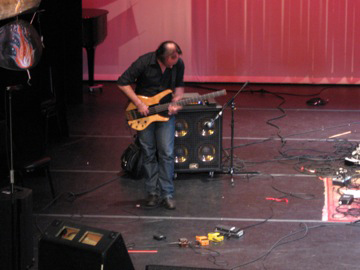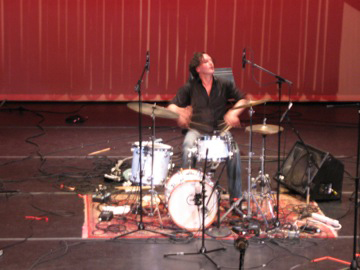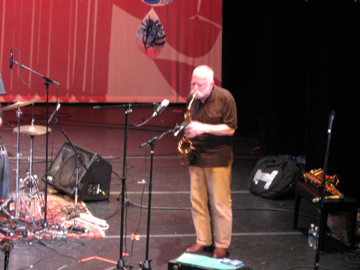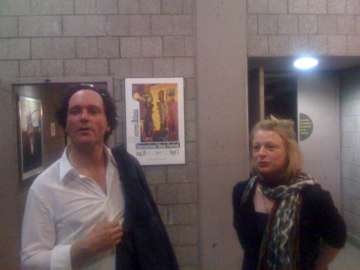 Michael and Lori

Nathaniel, Jeff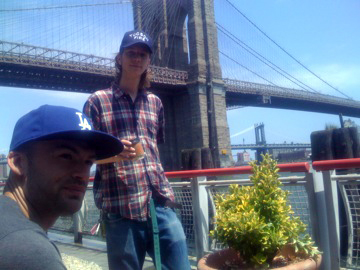 Nathaniel and Brad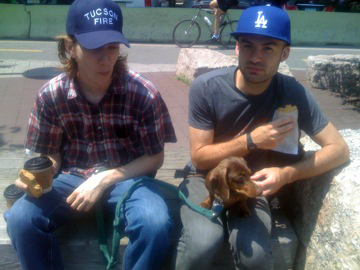 Nathaniel, Brad, Matilda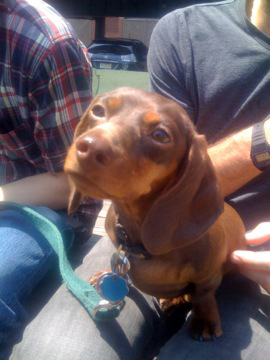 Matilda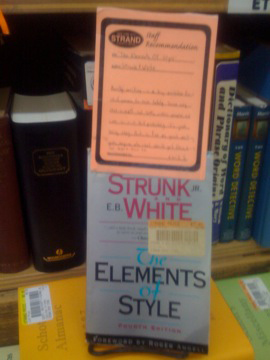 A hilarious tongue-in-cheek employee review of Strunk and White (Seen at Strand Bookstore):
"Poorly writing is a big problem for a lot of people to have lately."